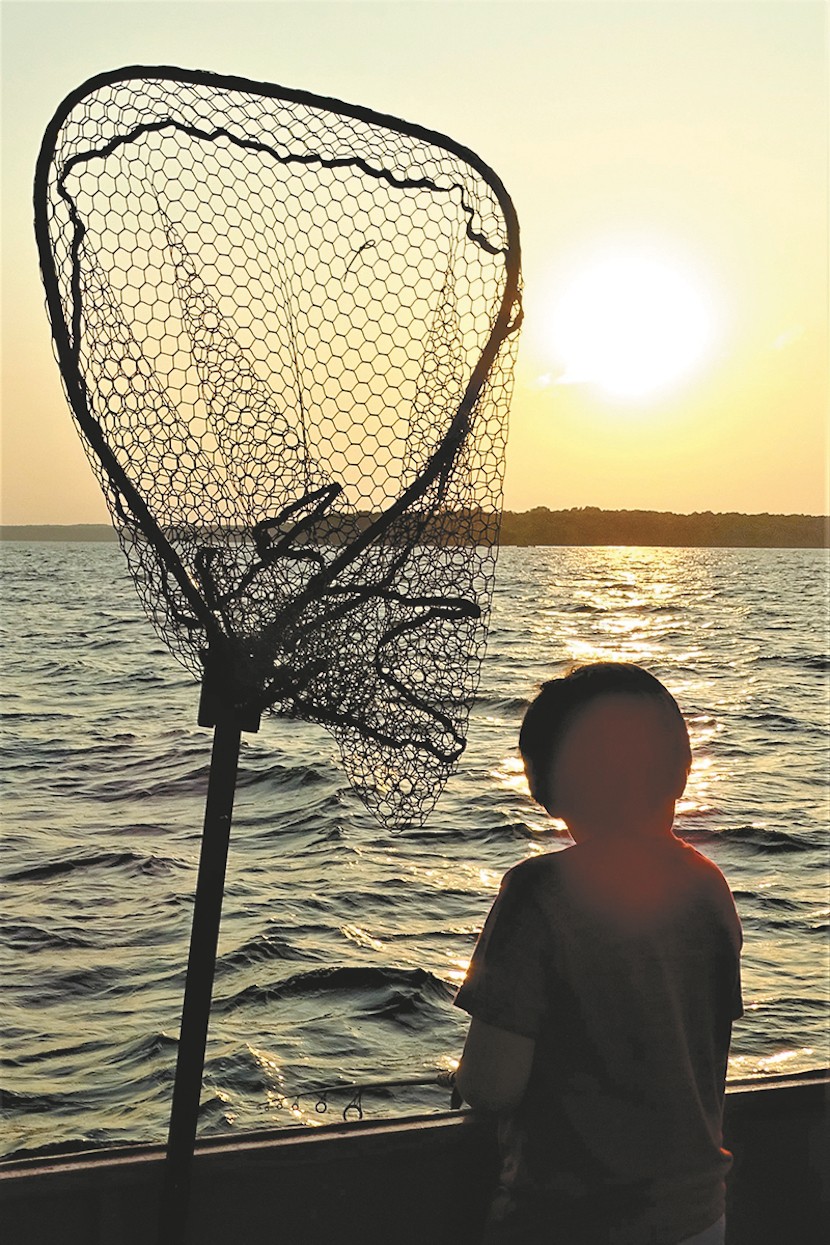 By Li Boyd Mille Lacs Band Member
In the Land of 10,000 Lakes, state agencies keep such close tabs on waterways that the water is known better here than probably any other state. But for the past half-decade, the Minnesota Humanities Center has been on a mission to examine something about Minnesota's water that's less well-understood: How human beings connect to the water around them.
We Are Water is a traveling interactive exhibit that was developed to explore this topic. The exhibit has been criss-crossing Minnesota since 2016. It visits six sites each year, and the end of the 2019 season brought the exhibit to the Mille Lacs Indian Museum.
The event was a year in the making and included input from multiple state and tribal agencies. Although the project is helmed by the Minnesota Humanities Center, each exhibition is unique and tailored specifically to the location it's visiting. For the Mille Lacs Watershed, over twenty-five interviews were conducted with Mille Lacs Band members, area residents, water-related businesses, local farmers, and water scientists.
Among those interviewed were Mille Lacs Band Department of Natural Resources Commissioner Bradley E. Harrington, Band Member Tania Aubid, and community members Gary Benjamin and Lloyd Keoke. Their stories can be found online on the We Are Water MN interactive map at the link provided at the end of the article. More quotes from additional interviews can be found in parts of the exhibit itself, including quotes from Band Member Li Boyd and Mille Lacs Band DNR Director of Environmental Programs Perry Bunting.
The uniqueness of the We Are Water MN project lies in its ability to straddle the two issues of water science and human connection. The exhibit's opening program at Mille Lacs featured six speakers, the first of whom was Mille Lacs Band Member Li Boyd, representing the Mille Lacs Band DNR. Boyd talked about the importance of water not only as a resource but as a spiritual being. Like all natural things around us, she explained, water has a spirit of its own that deserves respect and care from human beings. As such, the Mille Lacs Band DNR is dedicated to ensuring all appropriate measures are taken to minimize and eliminate the harmful impacts our modern society can have on our waterways. Boyd praised the Nay Ah Shing School youth advocates who have campaigned for the ban of single-use Styrofoam products on the reservation and was optimistic about other future projects.
Minnesota Pollution Control Agency Commissioner Laura Bishop reflected fondly on the views that Mille Lacs Lake has provided her all her life. She also pointed out that the Minnesota Legacy Amendment, an amendment to the state constitution that passed in 2008, clearly shows that Minnesotans care deeply about their water. The amendment increases state sales tax by three eighths of one percent until 2034 and provides funds for clean water, outdoor heritage, arts and cultural heritage, and parks and trails. We Are Water MN is funded in part by the Legacy Amendment.
Daniel Huff, from the Minnesota Department of Health, gave a mini science lesson on the amazing attributes water has that make it unique, such as its ability to act as a solvent which carries dissolved chemicals and compounds. This particular feature is what is most important to the Department of Health. It's imperative, according to Huff, to understand that human beings are made of water, and the water within us carries whatever we expose it to. This is why it is so important to make sure that the substances we introduce to the water around us are safe and healthy, as they can and do easily become the things that water then carries into our bodies.
Randolph Reilly, Special Assistant to the Commissioner of the Minnesota DNR, talked about what it was like growing up in North Carolina where there weren't lakes and rivers. Until he was 18, Reilly's interaction with water was limited to one week a year, when his family visited the South Carolina sea shore. Reilly is looking forward to writing the next chapter in his life here in Minnesota, where water is part of everything.
Whitney Place, Assistant Commissioner of the Minnesota Department of Agriculture, talked about her family's history with water, which included her grandfather's farm on one of the most polluted creeks in Minnesota. When she was younger, her grandfather used scrap metal to stop soil erosion on the creek banks. This introduced all kinds of new pollutants into the waterway. Place eventually convinced her grandfather to install J-hooks in his section of the creek. This slowed down the water flow to more safely combat soil erosion. This change over the generations illustrated the ways that people and families adapt to better care for their water resources.
The final speaker at the opening event was Kevin Lindsey, Chief Executive Officer of the Minnesota Humanities Center. Lindsey explained why the Humanities Center felt it was important to pursue this project. "Science should not run ahead of human connection," Lindsey said. While we may know more about our water conditions in Minnesota than most other states, it's important that we understand how those conditions actually affect us and also how we affect our water.
One of the crucial observations made by the exhibit is that Minnesota is the epicenter of a continental water divide. Virtually all the water in Minnesota flows out, with none flowing in. Some goes north to Canada and Hudson Bay, some to the Great Lakes and the Atlantic, and the rest goes south to the Gulf of Mexico. This makes Minnesota the geographic headwaters for all of North America, and the water conditions and management strategies here are critical not only for Minnesotans but for everyone in surrounding states and nations. Here more than most places, human beings have a responsibility to protect water at the source.
After all, Minnesota's waterways are some of the last that support manoomin, truly wild rice, which requires very particular growing conditions. This regional treasure was highlighted at the event with processing demonstrations and wild rice tastings. Wild rice with blueberries and maple syrup, wild rice and chicken hotdish, wild rice soup, and wild rice with butter and salt were all served and heartily enjoyed.
We Are Water MN will be hosting additional events through the beginning of November, including four watercolor painting events. For more details on the events, please call or visit the website of the Mille Lacs Indian Museum. More information on We Are Water MN can be found at mnhum.org/we-are-water-mn/ including a link to the story map where interviews can be listened to or read.
Above: We Are Water MN sponsored a free launch trip from Eddy's Resort on September 20. The sunset views were spectacular, and participants caught many nice fish.
Below: The We Are Water MN exhibit opened with guest speakers, including Kevin Lindsey, CEO of the Minnesota Humanities Center, Whitney Place, Assistant Commissioner at the Minnesota Department of Agriculture, Li Boyd from the Mille Lacs Band DNR, Randolph Reilly, Special Assistant to the Commissioner of the Minnesota DNR, Laura Bishop, Commissioner of the MPCA, and Daniel Huff from the Minnesota Department of Health. Erin Fallon from Kathio State Park helped hand out wild rice dishes for tastings of Minnesota's state grain. Interactive displays are set up for every age group, including this puppeteering stage called Fish Stories. We Are Water MN visitors try their hand at a game where one player must describe an image and the other must draw it out to match the actual image.