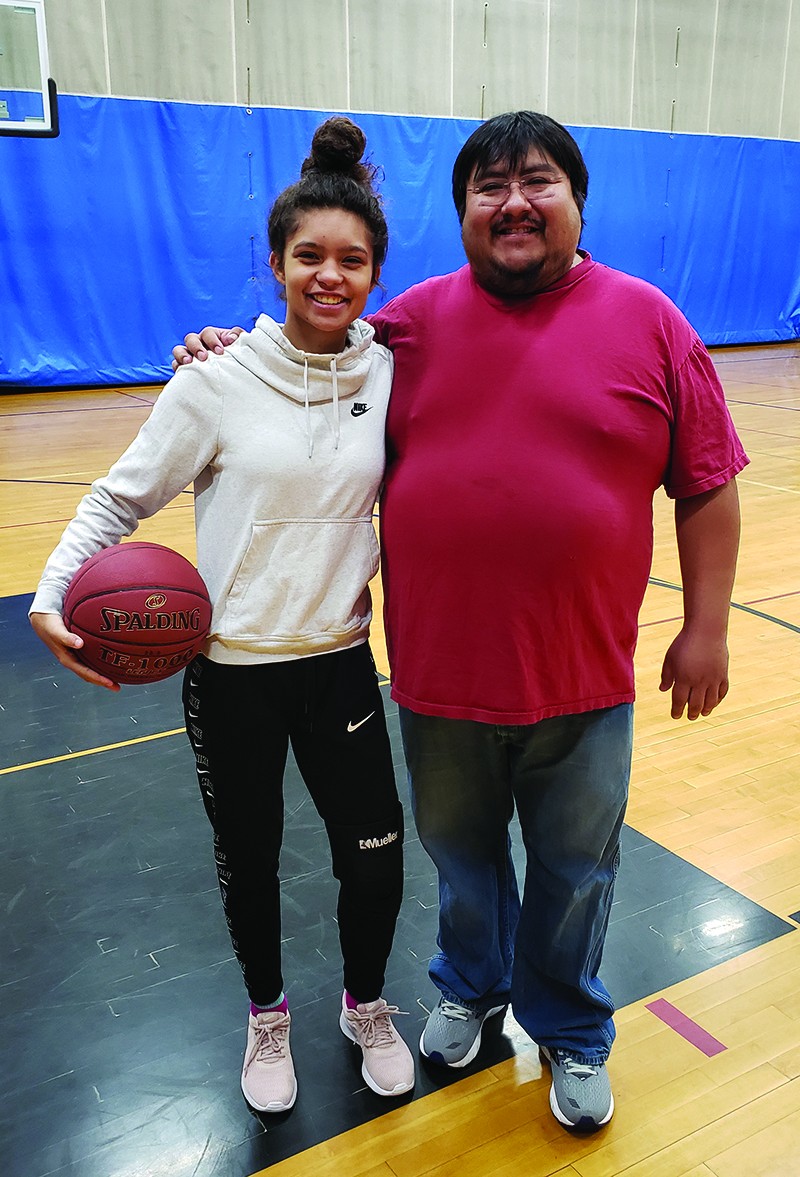 By Amikogaabawiike (Adrienne Benjamin) Mille Lacs Band Member
"No one else was doing it," Clayton Benjamin said as he corralled basketballs on a Saturday morning in the Onamia Elementary gym with a group of little girls running wild.
When his older daughter Aubrey was in 4th grade, Mr. Naslund (a former teacher at Onamia) asked Clayton to help coach her basketball team. At that time, there were coaches for each elementary grade, but the next year Clayton found himself the lone coach. He coached those girls all the way through to 6th grade. Now his daughter Danica is in 3rd grade, so Clayton dusted off his playbook to provide basketball fundamentals for Danica and her friends.
This time, though, he isn't doing it alone; he has help from his other daughter, Roxy, who is in 10th grade and a varsity starter at Onamia. "I like hanging out with my dad and teaching the girls skills, although I don't like waking up early on the weekends," Roxy laughed (and her dad agreed).
"When they finally understand something, they get so excited, and that makes it all worth it," Roxy added.
Clayton and Roxy laugh as they think about the fun times they have had over the years. "Still to this day, all of us girls laugh about my dad running this play called 'Kiwi,'" Roxy remembered. "It was so funny. I don't know why the plays always turn into food with these girls, but they always do."
Clayton laughed. "I ran two plays called 'Hand' and 'Fist,' and somehow by the end of the season we were running 'Ham' and 'Fish' and there's even another one called 'Pineapple'."
When asked what the best part of Saturday basketball is, Danica Benjamin said, "I like hanging out on Saturday mornings with my friends. We play one-on-one, chicken, and another game called 'Knock the Ball Out.'"
Taliya Hansen echoed Danica's excitement about basketball Saturdays and said, "I like learning how to dribble, doing layups, and passing."
"I like watching and helping the little girls," said Roxy. "It reminds me of myself when I was young. Having the practice and experience playing in elementary really made a difference as I got older to know what I'm doing, and what is coming ahead. The kids that I played with from elementary, we have a special bond on the court. It really made us better, and we learned how to play together as a team."
Coach Benjamin believes in the importance of starting athletics from a young age, and he said it makes a difference in the lives of the kids he coaches.
The 3rd grade Onamia Panthers will be looking to play in tournaments over the summer and are possibly looking into hosting a tournament here as well. For now, they are enjoying their Saturday morning basketball practices with Coach Benjamin and Junior Coach Roxy.