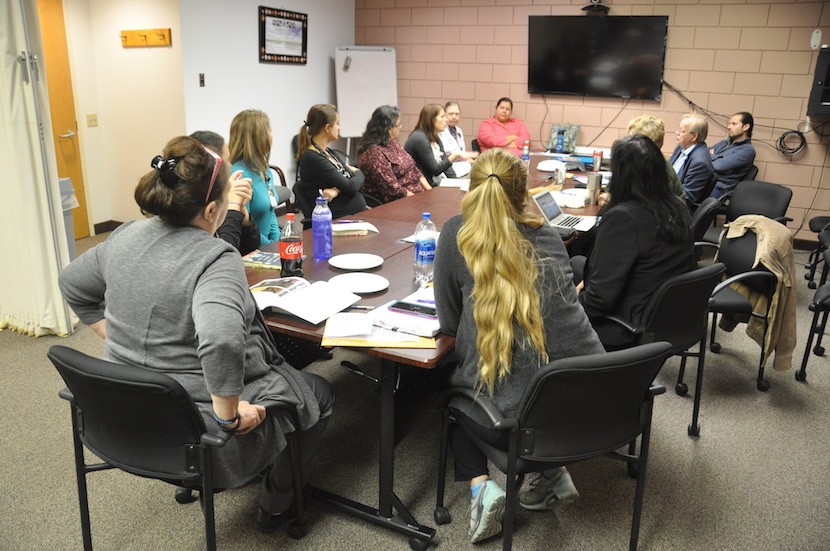 The Health and Human Services Department hosted distinguished guests from the University of Minnesota Duluth and Twin Cities campuses on Oct. 11 to learn about drug courts and a smoking cessation study that will be conducted with the cooperation of Ne-Ia-Shing Clinics.
Commissioner Rebecca St. Germaine introduced Dr. Laura Palombi of the UMD College of Pharmacy, who presented to HHS staff about the drug court in Carlton County.
"The drug court in Carlton County was an innovation that Dr. Palombi organized and invigorated with a pharmaceutical approach," said Commissioner St. Germaine. "It has been widely successful, with better consequences than jails. Here at Mille Lacs, a community steeped in tradition and culture, this is a better model."
Dr. Palombi described the collaborative approach of the drug courts, bringing together social services, medical personnel, attorneys and probation officers to determine the best course of action for offenders with drug problems.
The drug court team offers support, but also accountability, with rewards for staying clean. If they complete the four phases of the program, which takes over a year, felony charges will be dismissed or reduced.
Dr. Palombi's presentation was followed by questions from HHS staff and a wide-ranging discussion about the difficulties faced by those in recovery, including peer pressure when they return to the community from jail or treatment.
She said cultural resources — smudging, sobriety walks, sobriety feasts — have been very successful, so much so that even some non-Indian drug court participants have found them helpful.
Commissioner St. Germaine invited Dr. Palombi to return to the community to speak with others about drug courts and other topics. "I'd like you to come and speak with our Band Assembly and Tribal Police," she said. "We'd like to pursue this relationship in our community. The points you've brought to us are things we are passionate about and committed to."
In the afternoon, HHS staff met with professors and graduate students from the Twin Cities campus to discuss a memorandum of understanding and collaborative agreement between the Mille Lacs Band and University of Minnesota College of Pharmacy.
The U of M group will conduct a "precision medicine" study to determine the most effective smoking cessation medications for Mille Lacs Band members based on their unique genetic makeup.
Researchers will meet with volunteers in all districts to conduct interviews, take samples and conduct tests.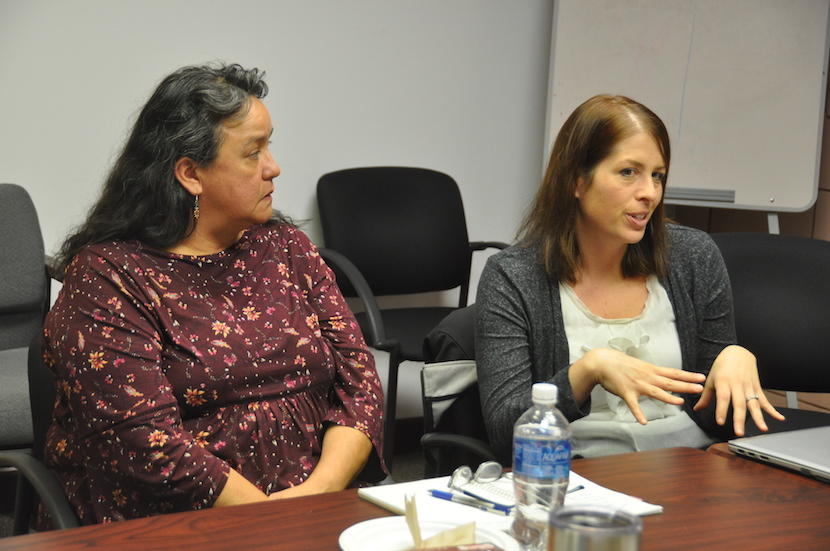 Dr. Laura Palombi of the University of Minnesota Duluth met with District I Rep. Sandi Blake and HHS staff on Oct. 11.