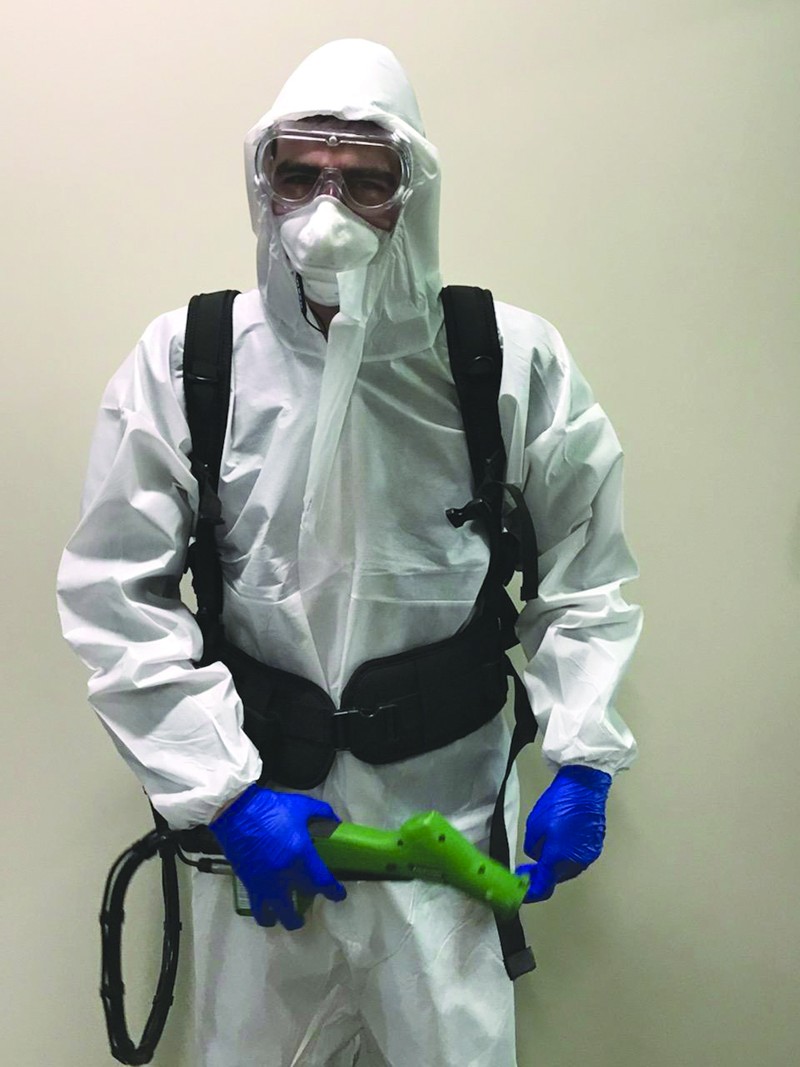 "Everything happens for a reason" can sometimes seem like an empty cliché, but once in a while someone's life story confirms the truth in the old adage.
In the case of Curt Kalk Jr., life experience and a variety of jobs gave him the exact set of skills required for his current role of Facilities Director for the Health and Human Services Department.
As Facilities Director, Curt is in charge of shipping and receiving, building maintenance, operations, security, grounds, and cleaning at the new HHS building in District I as well as the clinic in District III, the Assisted Living Units, the men's halfway house, the red brick house in District I, and the food distribution warehouse.
If that sounds like a challenge, consider this: A year ago, there were 17 in the department; today there are six.
And in case you've forgotten, we're in a pandemic.
HHS Commissioner Nicole Anderson is appreciative of Curt's work ethic and attitude. "We here at HHS are so grateful to have Curt's positive outlook as part of the team," Nicole said. "No matter what the challenge is, Curt shows up with a smile and willingness to help.
Not only is Curt's team in charge of maintaining a safe and sanitary health care environment, they're also involved with setting up mobile testing and vaccination sites. They coordinate with shipping companies to receive COVID-19 vaccines, and they work with the pharmacy and nurses to make sure the vaccines are handled and distributed properly.
"Now that I've stepped into the director role, I've gone from running from place to place to coordinating," said Curt. "It's my job to make sure the long-term isn't forgotten. It's less day-to-day and more week-to-week and month-to-month."
For Curt, the road to Facilities Director started down on the farm — the family farm in Deerwood where his parents raised cattle. When he wasn't at the farm, he was helping at the resorts his family members ran, learning another set of skills.
"When it comes to property management, a lot of it is kind of second nature," said Curt. "From a very young age, I learned how to trim trees, how to maintain the lawn, and what to do when a pipe burst."
After high school, he took a job at Ruttger's as a busboy and worked his way into conference services, learning the logistics required to coordinate events — another skill that comes in handy in facilities management.
"Once I had done that for a year, I entered the TERO program and went to work for a construction company, operating heavy equipment," said Curt. He spent three and a half years laying pipe at Bugg Hill, where he learned about the infrastructure required for public developments, as well as the need for industry standards and government inspections — more knowledge that Curt uses in his current job.
When he turned 21, Curt decided to go to school and took a new job at Ruttger's, this time as shipping and receiving manager. And guess what? Shipping and receiving is another responsibility of the Director of Facilities.
Not that there haven't been some bumps along the way. Physical labor led to injuries and chronic pain, and Curt took refuge in alcohol and drugs — eventually landing in jail and treatment.
"I was in and out of jail and jobless from 23 to 26," said Curt. "I tried to deal with the problem myself, but I ended up in jail the third time for a probation violation. I had almost finished when it was reset again, and I knew that next time, it's not gonna be 90 days and treatment; it's gonna be prison."
After treatment, with a new partner and a baby on the way, Curt went back into road construction. He worked as a laborer for a few months and was promoted to foreman's assistant. Again, he was learning skills that paid off later: setting up a job site with a focus on safety — something Curt has done a lot of in the last year.
But after two four-year stints with the same company, and a second child, Curt found himself working too much with no vacation, no sick days, and not enough time with family.
That's when he saw an opening for Environmental Services Technician with the Band. "I didn't even know what an Environmental Services Technician was, or if I was even qualified," said Curt. "Buy my dad and uncles have worked for the Tribe, as well as my cousins and my aunts. I had tried once previously, and it didn't work out at that time, but I decided to apply."
Curt said on his resume that he wanted to help the community — even if just in a supportive role. "Everything I do, I try to do my best," said Curt. "Every job is important. When you look at base level techs, without them doing their jobs, the people who support the community in other ways can't do their jobs."
Curt was hired and quickly made an impact with his willingness to work hard and his serious approach to safety and sanitation, which led to promotions to Maintenance Manager and his current job as Facilities Director.
Curt calls himself a "Type A" personality, which can lead to a lot of stress in a challenging environment — especially during a pandemic. He credits growing up with a mom who did foster care with helping him learn to cope with uncertainty and change — and he credits the leadership at HHS with helping the staff remain positive and productive during the pandemic.
"When Jan and Nicole came in, they found a way to strike a balance between following policy and rules while helping with some of the chaos and strife we face in our jobs," said Curt. "Seeing that gave me some of the courage or initiative to step forward and suggest changes. I'm not saying things are perfect every day — we have less staff today in this great big building than we ever had in the other building — but we find a way to make it work as a team. We're all working toward the same goal here, trying to bring the community a service, so instead of talking about problems, let's find solutions."
HHS leaders are equally complimentary toward Curt. Executive Director Jan Manary said, "Curt is a like a breath of fresh air! This has been a challenging year — community COVID testing and vaccines. I have gone to Curt on short notice, and with a smile and nod he and his team are all in to support our efforts. He is great to work with."