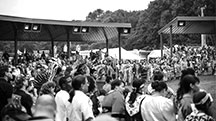 By Mille Lacs Band of Ojibwe, September 2, 2015
The 49th Annual Mille Lacs Band of Ojibwe Traditional Powwow was held on August 21-23 at the Izkigamizigan Powwow Grounds in District I. Grand Entries occurred at 7 p.m. Friday and Saturday and 1 p.m. Saturday and Sunday. Saturday morning also featured a horseshoe tournament, a parade, and a visit from Lieutenant Gov. Tina Smith, who was introduced to the dancers and audience by Chief Executive Melanie Benjamin. In spite of the cool temperatures, most of the events were held at the powwow grounds, but severe weather forced Saturday's Grand Entry to the Grand Casino Events Center.
Princess and Brave contests followed each Grand Entry, with a crowning of royalty at 3 p.m. Sunday. The winners were Jr. Brave: Shawn St. John, Sr. Brave: Nolan Monroe Perkins, Jr. Princess: Mandaamin Grapp-Gahbow and Sr. Princess: Sierra Edwards.
Miigwech to everyone who made this event possible!