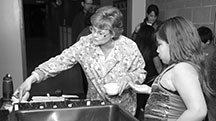 By Toya Stewart Downey, February 4, 2015
Since the day the first seed was planted Deborah Foye, the Nutrition Services Coordinator at Nay Ah Shing, has watched the little garden that she started at the school grow in ways she couldn't begin to imagine.
She has watched as the students have learned about starting a garden, caring for it and their awe as they have experienced new foods like purple potatoes, purple carrots and purple beans.
"The students were amazed when they turned green when cooked," Deborah said.
Each year as the garden has flourished, so too has the minds and taste buds of the students, much to the delight of Deborah, who has worked for the Band for 23 years.
Deborah will get to share the story of the garden, which was started in 2009, when she presents at the annual Schoolyard Garden Conference at the Minnesota Landscape Arboretum on Feb. 28.
Though she has never presented anything publicly Deborah said she is thrilled to talk about the Nay Ah Shing garden, the students and their experiences. She is also excited to share how the garden has garnered community support from other Band departments especially the Department of Natural Resources, which was instrumental building raised beds for the project.
Today's garden grows a variety of fruits from blackberries to raspberries and strawberries and vegetables including asparagus plants, peppers, beans and more. There are several different herbs growing, a sunflower house, cucumber tunnel and three small apple trees.
All of the produce is used at the school for the salad bar or integrated into the school menu. It is also shared with others when possible.
"Sometimes we do taste tests with groups of students and that is always insightful and fun," Deborah said.
Deborah remains deeply committed to the garden project and will stay involved as much as possible.
"It has been so much fun and so rewarding for me," she said. "Every year students ask me, 'when are we going to start the garden,' and that makes me happy."
"It's been amazing to get so much support and it's exciting to see the kids try something new, especially when they discover a food they've never tried and they actually like it."