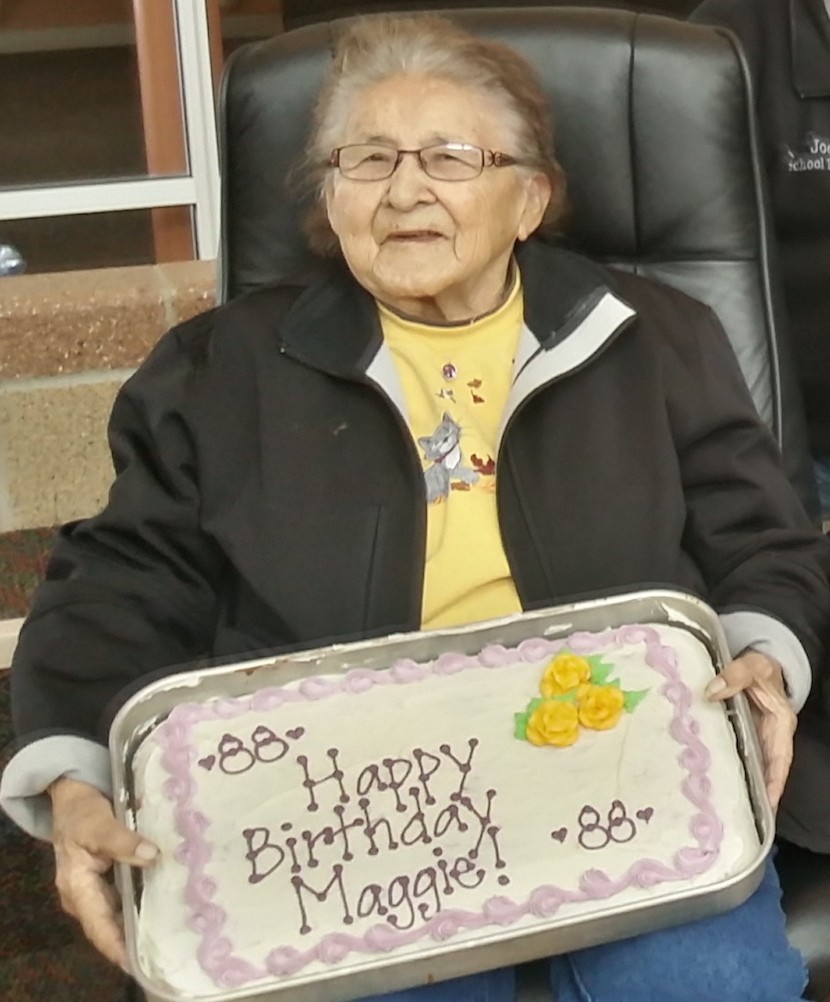 By Melissa 'Baabiitaw' Boyd Mille Lacs Band Member
Maggie Kegg, also known as Matino, not only celebrated her 90th birthday on February 17 (which makes her birth year 1928!), but she was recently the guest of honor at her retirement party held at Wewinabi Early Childhood Center.
Maggie, lovingly called 'Gramma' by the children, worked at the school for more than 30 years as an Elder Fluent Speaker. The four years that I spent working with Maggie and her fellow grammas – Susan Shingobe, Elfreda Sam, Carol Nickaboine, and Linda Mitchell – included some of the most profound life experiences I have ever had. I watched in awe as they continued to care and provide for the children and grandchildren well into their 80s and now 90s. 
Maggie is the mother of 15 children (several of whom have since passed on). She has 56 grandchildren and 90 great-grandchildren and a special relationship with Amikogaabaw-iban's son, Giiwit. Maggie married Jesse Kegg when she was 14 years old. Jesse, now deceased, was 19 at the time. When they were raising the kids, they would sometimes load them in the car and bring them to wrestling shows or take a car ride to the city to go out to eat. All of Maggie's kids knew how to gather birch bark and helped make tiny birch bark canoes. 
Her best friend was the late Margaret Hill, a fellow crafter. Maggie even has her own beadwork design! Her daughter, O'madwe, said during our interview, "If we didn't clean the house and finish our chores, we would get a whoopin' with the red willow switch!" Red willow wasn't just sacred tobacco in the Kegg home, but a disciplinary tool as well.
For many decades, Maggie made blankets for her family to use at ceremonial dances. There was no design too difficult. She has been sought out for years to be the maker of blankets and has taught her daughters her trade. For the past few years, they have taken over the sewing machines to meet the demands for Maggie's work.
While visiting at her house, she always makes sure that I am offered coffee or tea and that I have something to eat. She tells me what is new with her children and asks me about my work and school business. Often she asks me how many kids I have. When I tell her I have eight children, I quickly follow up with, "Well ya know, I am trying to catch up to you!" She laughs every time. 
Maggie once told me a story about how poor Indians used to be. She asked me, "You know what we used to use for cups?" I waited patiently for her answer. "Peanut butter containers. We used to wash them out," she explained. One thought Matino often shares with me when I see her is, "You know, we don't need so much stuff. We don't need big houses. My house is too big." She reminds me that things used to be simpler when there was less money and people spent more time together. 
The Ojibwe word for an aged woman is "Mindimooyenh," meaning "the one who holds things together." Maggie has been a Mindimooyenh for quite some time, and she continues to bring people together to this day. Let's all congratulate Matino on her beautiful career as a mother and a gramma at the Head Start. 
Photos:
Maggie Kegg at her 88th birthday party in 2016.
Maggie and her late husband Jesse.