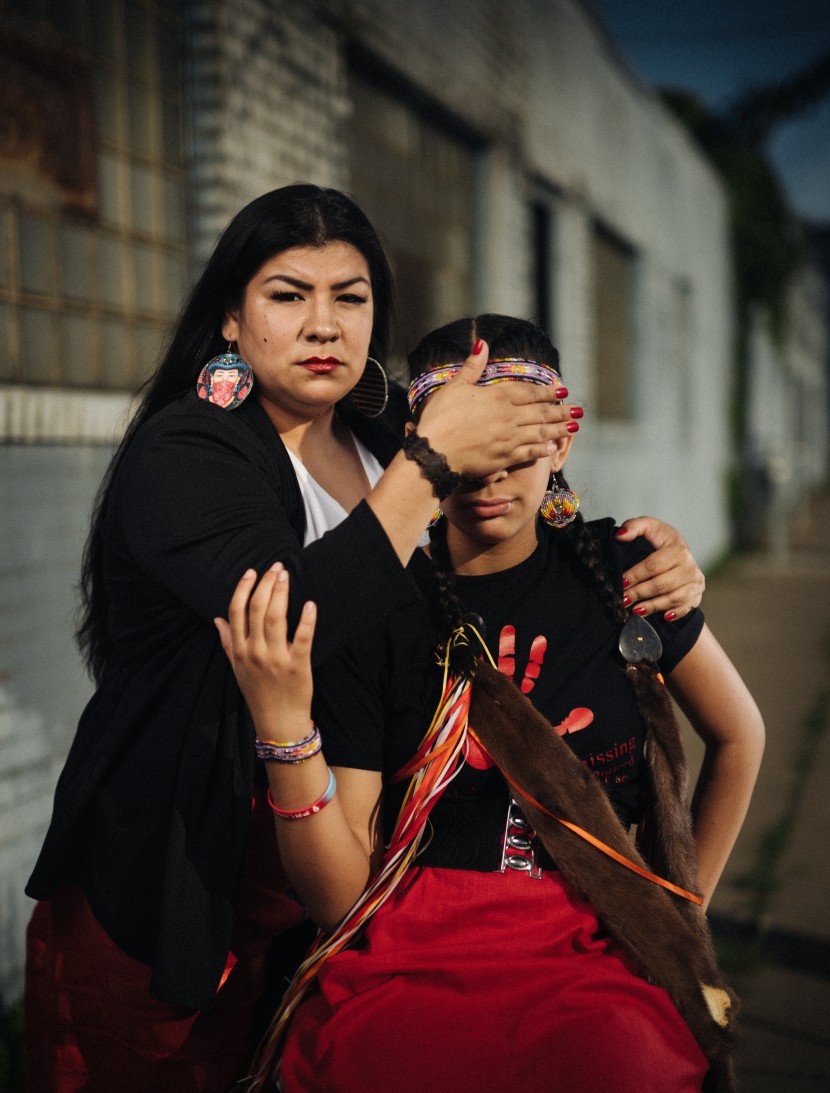 By Amikogaabawiikwe (Adrienne M. Benjamin)
Mille Lacs Band Member
Band member Chad Germann's art will be featured in Hennepin Theatre Trust's latest public art initiative titled, "It's The People." This project focuses on Twin Cities artists who have worked to display a wide array of meanings and intentions with photos that are meant to tell the real story of downtown Minneapolis and those who inhabit it, past, present, and future.
Chad was told of the project by a friend, who introduced him to Joan Vorderbruggen, Hennepin Theatre Trust's Director of Hennepin Theatre District Engagement. After a few meetings, Joan thought that Chad would be an excellent selection for the project.
The initiative allows artists to tell any story that they find relevant to them in any way they choose, allowing for maximum creativity and storytelling through the photography medium. When asked about his creative direction, Chad said, "When I started thinking about the project, I knew that I wanted to use this major showcasing opportunity to bring light to Murdered and Missing Indigenous Women (MMIW). When I think about this cause, I think about my own sister, my mother, and my own daughter. This is such a major happening that I think it's important for more people to know about it. What better way than to see a photo of it on Hennepin Avenue?"
A number of different ideas came and went as Chad honed his focus onto what became the final outcome. He remembered, "At first I wanted there to be a strong Indigenous mother shielding her daughter away from different idealized bad situations that were happening all around them. I wanted them to be in a place that was dark with all of these threats surrounding them." When the pandemic swept the world, Chad had to change his plans a little, and he was forced to rethink and refine his idea a bit more.
"In my mind, I had an idea of the strong Indigenous mother that I wanted to use for the project. I had met this woman on another project's video shoot, and I was impressed with her story and poise and the way that she talked about motherhood." That woman was Valentina Zargoza, who is pictured with her teenage daughter Lucia in Chad's final product. "I wanted her to look strong and protective, like someone not to be messed with, and I wanted her to be shielding her daughter from all of the world's troubles. That idea definitely stuck through until the end," Chad said.
"Due to the pandemic, I had to wait until the right time to take these photos. Some of my other ideas originally involved other people, and that had to be thrown out," Chad added. In the end, the photography session turned out beautifully, and since then, Chad has been riding the wave of the project launch, even appearing for a feature interview on local news station KARE 11.
The portrait will be hung as a vinyl billboard on the side of the Pantages theater for an entire year, and it will also be shown as a digital billboard all over the Twin Cities area.
Congratulations, Chad, on this wonderful accomplishment, and miigwech for using this opportunity to tell this important story to a wider audience!
You can learn more about the project by visiting the Hennepin Theatre Trust website at www.hennepintheatretrust.org or by looking up the hashtag #ItsThePeople.