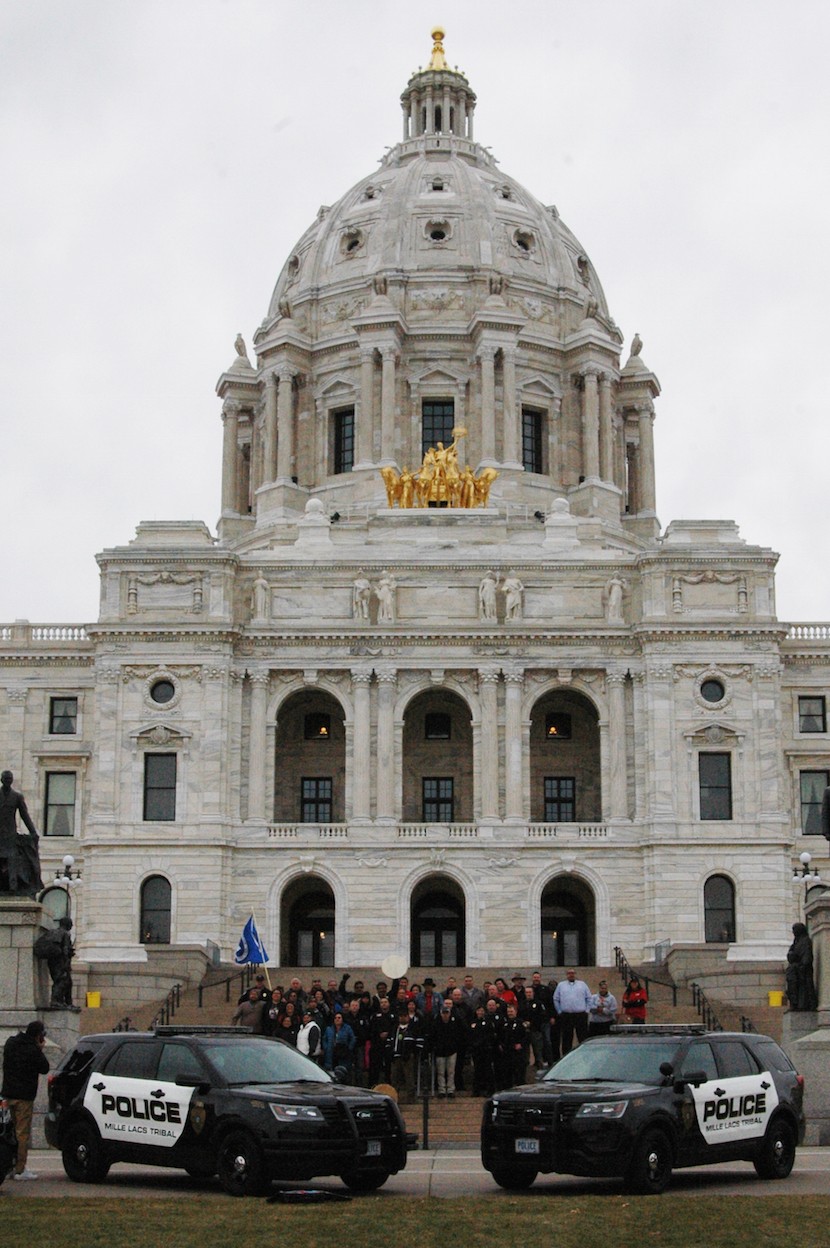 With a backdrop of tribal police cars, more than 100 Mille Lacs Band members and friends gathered on the steps of the state capitol building in St. Paul November 20 to rally for a solution to the law enforcement dispute on the Mille Lacs Reservation.
The rally started out in a good way with sage and asemaa, an invocation in Ojibwe by Bradley Harrington, and a hand drum song by Algin Goodsky, followed by a march up the stairs to the capitol rotunda, where a drum song filled the capitol dome, and leaders from across Indian Country gave their support to the Band in its fight for a new law enforcement agreement – an absolutely critical step to restoring public safety in District I.
The Band is also working with state lawmakers to draft legislation that would enable the state to intervene when counties revoke agreements.
Mille Lacs County's June 2016 decision to rescind its agreement with the Band has "handcuffed" tribal officers, Bradley said in his introduction, leading to rampant criminal activity fueling an epidemic of opioid overdoses.
Bradley introduced a series of leaders beginning with Drumkeeper Bob Eagle, who said "Miigwech" to everyone who came to show their support.
State Rep. Susan Allen, a Lakota/Ojibwe lawmaker from Minneapolis, said the state capitol is "your house," and described a growing movement of women and people of color who support Native rights and are aware of tribal issues.
Scott Vele, Executive Director of the Midwest Alliance of Sovereign Tribes, spoke next, saying, "Your lives, your law enforcement, is our law enforcement. … Over 200,000 Native Americans in the Midwest stand with you today and every day."
Robert Larsen, President of the Lower Sioux Indian Community and Chairman of the Minnesota Indian Affairs Council, spoke on behalf of the state's 11 sovereign Indian nations. "We all want community policing," Larsen said. "We all support our tribal police. Our concern is if Mille Lacs County can revoke their agreement, any county could revoke that agreement."
Former FBI agent Walter Lamar from the Blackfeet Nation talked about how the Tribal Law and Order Act gave the Band an additional level of law enforcement on the reservation, stressing the importance of partnerships between local, state and federal governments. Lamar served as Deputy Director to the Bureau of Indian Affairs Office of Law Enforcement, and Senior Adviser to the Department of the Interior's Office of Law Enforcement and Security. "I call on state and county officials to seize this opportunity to strengthen criminal justice on the Mille Lacs Reservation — all 61,000 acres of it," Lamar said.
Ernie Stevens, the Executive Director of the National Indian Gaming Association and a member of the Oneida Nation, said, "On behalf of the 184 member tribes of the National Indian Gaming Association based in Washington D.C., we come here to stand in support of the Mille Lacs Band of Ojibwe, not just because it's right, and not because it's the law, but because the Mille Lacs Band has been there for all the tribes in this country time and time again."
Rep. Peggy Flanagan, a White Earth Band member who represents the western Minneapolis suburbs in the Minnesota House of Representatives, said changes are needed to the law, which currently gives county sheriffs, attorneys and boards the ability to sideline or "handcuff" tribal police. "I'm here to ask folks to come back to the table to ensure that our lives, all lives, are protected," she said, "and I will do whatever I can in my power in this House to ensure that that happens."
Chief Executive Melanie Benjamin concluded the event by introducing Tania Aubid, who has been on the front lines of the Standing Rock and Line 3 pipeline battles. She thanked all those who preceded her and spoke about the importance of ensuring that the Band's sovereignty is protected.
Since the county rescinded the law enforcement agreement, Melanie said, criminals have come to see the reservation as a police-free zone. "We have young girls being violated, and each one of us has a responsibility to stop it," Melanie said. "We will do everything we need to do to make sure we are protected — our elders, our children, and our guests."
Photos by Steve Premo