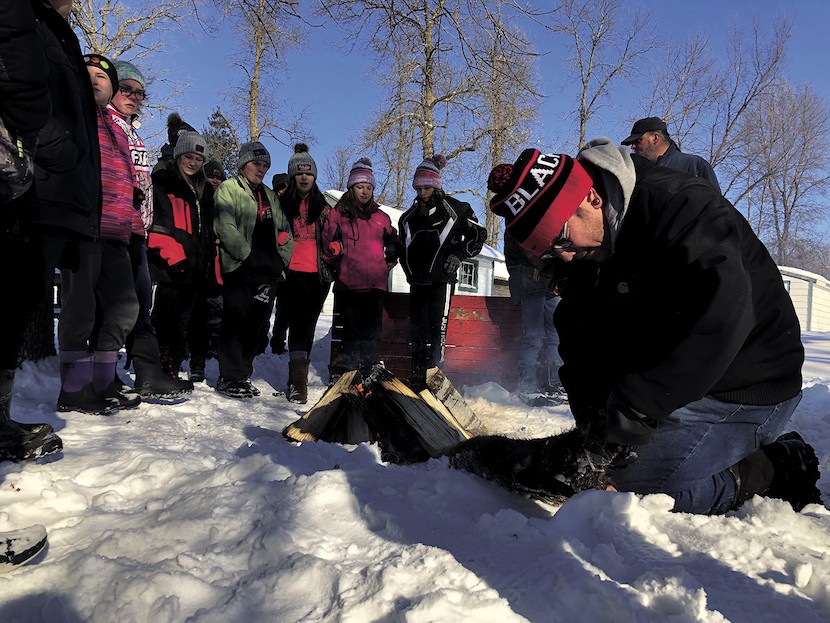 Heavy snow and bitter cold made winter camp at the Mille Lacs Indian Museum that much more memorable and authentic for local students.
On Thursday, February 7, Onamia kids got to travel by snowshoe around the museum grounds as they learned winter lore from staff and guests. They watched Mike Wilson skin a beaver, played traditional games with Drs. Dan and Susan Ninham, made asemaa pouches with Linda Ulrick and Paula Maday, learned about winter from Kathio Park Naturalist Erin Fallon, and practiced making cordage with Kaitlin Thompson of the Minnesota Historical Society.
The kids also got to visit the museum's collection of artifacts to see nets made of nettle fibers and learned to twist fibers into rope.
On Friday, February 8, youth from Isle and Nay Ah Shing schools enjoyed the stations and lunch at the museum.
Site Manager Travis Zimmerman was pleased with the turnout and the success of the winter camp. He was grateful to the teachers and also thanked Chris Clitso-Nayquonabe from Onamia Indian Education, Katie Raverty from Isle Indian Education, Byron Ninham of the Niigaan Program, and Rory Lieb from the museum, who helped with the plowing.