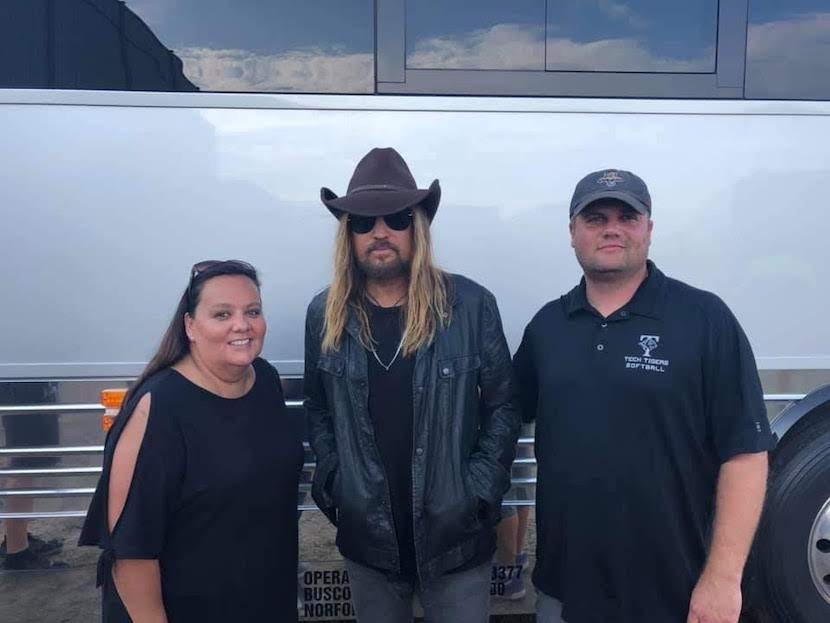 By Alyssa Enno Mille Lacs Band member
Long days, long nights, thousands of people — Putting on a concert while managing backstage and talent is a daunting task. Not everyone can enjoy working in a fast-paced environment, but Mille Lacs Band member Krista (Roache) Klug is no stranger to hard work. Krista enjoys and prefers the hustle and bustle that comes with her job, especially when it means giving her guests a memorable experience and show.
After unexpectedly losing her job with Grand Casino, Krista was hit with adversity. With twin daughters starting college and a younger child in elementary school, Krista knew she had to pick up the pieces and keep moving, for herself and her family. "As much as I felt like I deserve a break and wanted to slow down, I had to keep going. I couldn't let anything get me down," said Krista.
Krista was ready to invest in herself. She turned a long-time dream into an action plan and, along with her husband, created B.A.T. Entertainment, a talent-buying business. Inspired by her daughters and wanting to set an example for them, she cre- ated this company that could one day belong to them. A truly one-of-a-kind business, B.A.T. Entertainment is a Mille Lacs Band member and female-owned business.
While the business is still new, there are opportunities where Krista is able to bring her family into the business for work. Her daughters and their friends have also been a big help in putting on some of their shows. Whether it's acting as a runner, checking IDs, or even ushering guests, it's all hands on deck when it's show time. "We truly are a family business!" said Krista.
Krista works alongside her husband, Noah Klug, just like they worked together at Grand Casino. The two have over 24 years of experience in tribal gaming and casino entertainment. The duo helped make Grand Casino an entertainment destination, something no other casino within the state can claim. Grand Casino had a number of successful shows and multi- ple sold-out shows hosting acts such as KISS, Kid Rock, Dolly Parton, Rascal Flatts, Brooks and Dunn, Alan Jackson, Toby Keith, Aaron Lewis, and Kane Brown. Together they created Grand RockTember, a popular outdoor festival that has quickly became a fan favorite.
Experience, work ethic, and dependability go a long way, which is working out in Krista's favor. Many of the connections and relationships with agents that were formed during her career with the casino are following her in hopes of working with her company. Under B.A.T.'s umbrella, the business specializes in booking talent, managing backstage and production, producing festivals, and event management. B.A.T.'s network includes venues in Duluth, Mankato, and Fargo, in addition to a major music festival in the Twin Cities.
Within a year of losing her job and starting her business, Krista is celebrating the inaugural year, but she has many more milestones she wants to achieve. "Just like with any business, the first year can be a little rocky, but that only motivates me," Krista said. "I am excited to see how far I can take my business. Our goal for 2020 is to expand into the casino market and continue to grow our business."
Above: Krista and Noah with Billy Ray Cyrus. Below: Backstage with the B.A.T. crew and Bill Engvall ready to hit the stage. Photo by Bradley Sargent.