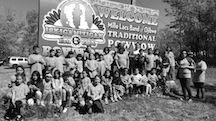 By Mille Lacs Band of Ojibwe, June 19, 2015
Submitted by Gregg Rutter
Nay Ah Shing School students and staff on the Mille Lacs Band of Ojibwe Reservation went the extra mile to increase awareness of local and global water issues on Friday, May 22. After participating in a 1-mile fun run event, those who wanted to "go the extra mile" picked up a gallon (or two) of water and continued for another mile in an effort to experience in a small way what many people – mostly girls – must do every day to bring water to their families in Tanzania and many parts of Africa. In fact, one of the Ojibwe teachers recalled that as a small girl she also had to carry water from Mille Lacs Lake for her family every day – there are deep and meaningful connections.
Students and staff from kindergarten through 12th grade went the extra mile and carried water. At the beginning of the event, fourth- and fifth-grade students sang the "Niibi Song" – the water song – to honor the precious resource. The Ojibwe people have a very special relationship with water as traditional food sources, "manoomin" (wild rice) and "ogaa" (walleye), are from the water. Many teachers at Nay Ah Shing incorporated water-awareness lessons into their classrooms in the weeks before the Walk with Water event.
Students also learned about water issues in Tanzania and the Nay Ah Shing School provided a donation from staff and students to bring water to a new school half-way around the world in Tanzania, Karuco. The donation was sent to Educate Tanzania (www.educatetanzania.org).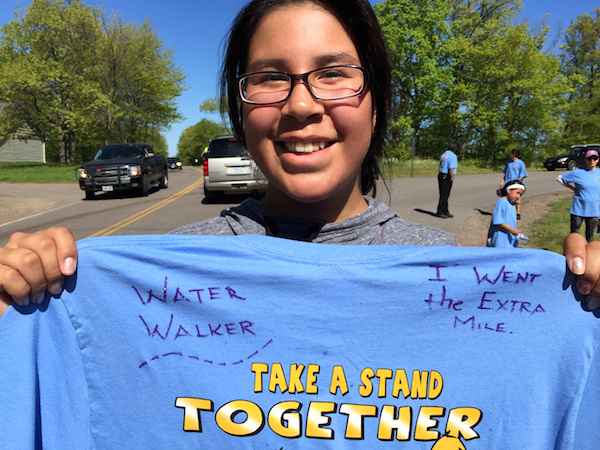 Eighth-grader Jennie Mitchell was proud to show off her Walk with Water t-shirt.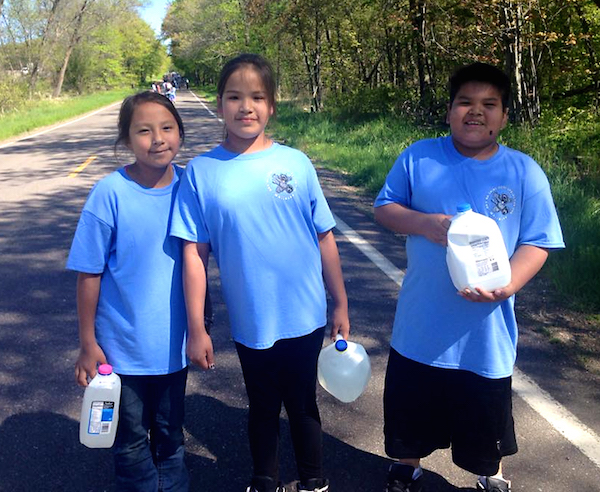 Three third-grade students who went the extra mile were Tia White, Delilah Mitchell and Darnell Mitchell.