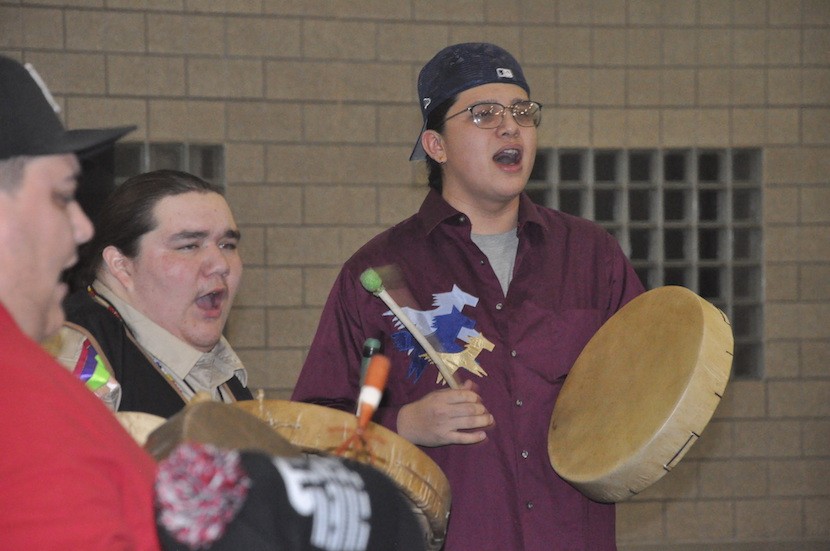 By Brett Larson Inaajimowin Staff Writer
Aaron Buckanaga — better known as 'Vito' — remembers the last time he saw the East Lake Community Center packed for a social event. He was seven years old, and there was a state drum and dance competition when he sang with a drum group called Yellow Feather.
Fourteen years later, on Friday, February 1, 400 people crowded the center for the first-ever Round Dance in the Swamp, and Vito couldn't have been happier — or more surprised.
"I have a lot of time to think, especially in the winter, and one of the things I'm always thinking about is our youth, and our way of life," said Vito.
The youth in East Lake have struggled, and Vito feels like the community needs to step up and help them — as it helped Vito and his brothers and sisters. That kind of healthy community environment "trickles down" to the youth, Vito said.
"We didn't come from the best household. For a while there I was on my own, and the community was always there. I can see the difference from then until now. That connection has dwindled."
Vito is thankful for the time he spent with Elders at drum ceremonies, powwows, and other occasions. "Helping Vince (Merrill) and Amik (Smallwood), Melvin Eagle, Skip Churchill when I was in my teenage years, that's who I was with all the time," he recalled. "Just sitting with them guys, you learn so much — all the stories, all the knowledge they carry. A lot of it has stuck with me, and it influences my decision making and my way of thinking."
"What I wanted to do — and a lot of people were willing to help — was to give people a way to clear their minds from whatever they are going through, to have fun, to eat, to laugh, to hear the singing, and get out there and dance. Singing and dancing are good for our spirits. They help us get happier in our time of hardship."
He also wanted to raise some money for his sister Amber to attend fashion week in New York.
Both goals were met — big time — as a huge crowd came out to sing, dance, eat, and take it all in.
Vito knows a lot of singers from his travels with Red Willow — East Lake's resident drum group. Many of his friends came from long distances, expecting nothing in return. Vito raised
enough to compensate them with a little gas money, but most would've come anyway.
Round dances, where singers come with hand drums to share their favorite songs, originated in Cree country, but they're becoming more popular among the Ojibwe, especially during the winter months. Some will say it helps to remember the people who have gone on and to connect with them — to help with grieving, and to celebrate the lives of those who have passed.
As Vito thought it over during those long winter nights, it made sense to bring a round dance to "the swamp" to meet a need in the community.
"It takes a community to heal a community," Vito said. "My main drive is to bring back that old way of thinking, what it means to be a community. I always say we as Anishinaabe have been gifted so many beautiful things, we need to grasp what we have. We can be there for each other, help each other, count on each other. We need to be a people again."