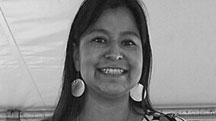 By Andy McPartland, May 26, 2015
Carla Big Bear just loves to learn. Her educational journey, which started at Nay Ah Shing preschool when she was only three years old, has continued to this day.
A Mille Lacs Band member, Carla attended Nyquist Elementary and graduated from Isle High School in 2001.
Her educational career has taken her to a variety of stops over the years. She received a diploma in Office Administration from Minneapolis Business College, where she was fastest typist in her class. Then, she went to Central Lakes College in Brainerd, earning her Associate of Applied Science in Criminal Justice with a certificate in Criminalistics.
Next, Carla went to St. Cloud State University, where she received her Bachelor of Arts in Criminal Justice.
Her next stop was Washington, D.C. where she participated in the Native American Political Leadership Program at George Washington University in the spring of 2012. The program is a full scholarship, semester-long chance for Native American, Alaska Native, and Native Hawaiian students to get a first-hand look at politics in the nation's capital.
Carla has her sights set on one more degree, as she's preparing to graduate this month with her Master's in Tribal Administration and Governance from the University of Minnesota- Duluth. She has held a 4.0 GPA during her time at UMD. When Carla achieved a 3.8 GPA from St. Cloud State, she proudly showed it off to her mentor, the late Marge Anderson, former Mille Lacs Band Chief Executive. Marge took barely any time to tell Carla that there was room for improvement. Carla dedicates her perfect GPA to Marge for encouraging her to strive for the best grade possible.
Carla's future plans include securing a job in Washington D.C. within the next year, in a position where she could advocate for Native American rights. If that doesn't happen, then she would like to start law school in the fall of 2016.
While she expands her horizons and quenches her thirst for knowledge, she inspires others to do the same. She currently works as an Education Mentor for the Chiminising Niigaan Program, where she enjoys helping the kids with their homework and talking to them about their education goals and where it could lead them.
In Carla's mind, if she can inspire at least one child to continue their quest for education, then she has done her job. When reflecting on her educational career, it's safe to say that Carla is an inspiration not only for children, but all of us.