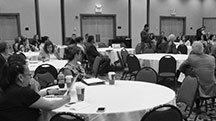 By Brett Larson, June 5, 2015
Over 50 tribal and state government officials and employees met on the Mille Lacs Reservation May 28 to address problems related to opiate abuse and addiction on Minnesota Indian reservations.
Tribal leaders from Bois Forte, Red Lake, White Earth, Leech Lake, and Mille Lacs reservations were in attendance. The event was hosted by the Mille Lacs Band of Ojibwe. Mille Lacs Chief Executive Melanie Benjamin, Rep. Sandra Blake, and Elder Joe Nayquonabe welcomed participants and shared their thoughts on the problem of opiate addiction and neonatal abstinence syndrome.
Melanie Benjamin thanked her colleagues in government, Secretary/Treasurer Carolyn Beaulieu and District I Rep. Sandra Blake, for taking the initiative to host the forum. "I'm proud to work with these two strong women," Melanie said.
Melanie called the problem of opiate-addicted babies "the single greatest threat to the Mille Lacs Band of Ojibwe." She said recent data on the prevalence of neonatal abstinence syndrome (NAS) on reservations was a wake-up call for tribal leaders. Studies released in the fall of 2014 showed that 28 percent of babies with NAS in Minnesota are born to Native Americans, even though Native Americans make up only about two percent of the state's population. In other words, American Indian newborns are 8.7 times more likely than white babies to be born with NAS.
Melanie talked about addiction as a way to "fill an emptiness and numb the pain caused by historical trauma," which she said is "something that happened to us, not something we are." She talked about the strength and resilience of Indian people who have overcome disease, genocide, and relocation. "If there is one thing I'm convinced about," she said, "it's that we have the ability to fight this epidemic right here in this room."
Joe Nayquonabe Sr., a retired chemical dependency counselor, opened the event with a prayer in Ojibwe, and he also shared his perspective on the opiate epidemic, saying, "It strikes everybody. It doesn't discriminate. … It's not only affecting us but it's affecting our children. The creator gave us a wonderful body, and it's up to us to take care of it."
Sandra Blake, who represents District I on the west side of Mille Lacs Lake, welcomed participants to the summit and spoke about the importance for these discussions to take place. "The problem of drugs and alcohol, and children in crisis is a hard topic to speak on without getting emotional and teary. I see it all around me and it affects everyone. Grandmothers, adults, and children. There are also positive groups in the community like women in wellbriety." she told the audience." I hope that as you listen today, you learn some things that you can use and bring back to your communities and families. It's very important that we keep working on this issue."
The agenda included opening comments by Bois Forte Chief Kevin Leecy, White Earth Secretary Tara Mason, Red Lake Chief Darrell Seki, Minnesota Department of Human Services Assistant Commissioner Jim Koppel, Minnesota State Senator Chris Eaton, and Jake Schwitzer, legislative assistant for U.S. Sen. Al Franken.
Sen. Eaton shared the story of her daughter's death by overdose. She said the "war on drugs" has been lost and that the focus needs to shift from imprisonment to treatment. "We can't arrest our way out of this… Until we start treating (addiction) like a disease and an illness we're not going to be successful… It should be part of your general medical checkup. People should be screened for addiction. They should be treated for addiction. They should not be arrested."
The majority of the event was devoted to presentations on the following topics:
Anishinaabe value of family and women's roles by Ted Waukey, Mille Lacs Band Social Services Director Neonatal abstinence syndrome and the problem of methadone therapy by Phil Norrgard, Health and Human Services Director for the Fond du Lac Band of Ojibwe
NAS prevention projects at Red Lake, White Earth and Leech Lake
Disparities and recommendations by Shirley Cain, Disparities Consultant for the Minnesota Department of Human Services
Tribal State Agreement Legislation presented by tribal attorneys
Urban Conditions by the Urban Indian Child Welfare Act (ICWA) Advisory and Metropolitan Urban Indian Directors (MUID) Members
The event concluded with a roundtable discussion of next steps to be taken to combat opiates and NAS in Indian Country.
Sam Moose, Mille Lacs Band Commissioner of Health and Human Services, suggested creating a process to share information and begin creating a list of best practices in dealing with the problems that had been discussed throughout the day. He also acknowledged the many tribal family/social service workers and the "tremendous" work they do on behalf of Indian Country — "even though they take pressure from all sides with little recognition."
"Their job of stabilizing and often rebuilding families is very intense and can take a toll on emotional, mental and physical health," Sam said. "Therefore it is extremely important to care for the care providers so they don't develop 'compassion fatigue' or burnout."
Sandi Blake, summarized some of the key points of the day and highlighted the importance of women's groups, cultural activities and parenting classes. "Those who are stuck in addiction do tend to isolate themselves," Sandi said. "We really have to struggle to reach out to them and bring them into our circles." She said she enjoyed the presentations and encouraged the participants to keep working on the problem. "We need to create these types of forums in our communities where we can present this information to community members and get them involved."
Kimberly Sam introduced herself in Ojibwe and then got a big laugh by adding, "My Social Security name is Kimberly Sam." She spoke about the Sons of Tradition, Daughters of Tradition and Mothers of Tradition programs she operates. The latter has been implemented in Mille Lacs County Jail. "The number one thing is getting involved with people, getting into action, getting out there, because it's about establishing trust and listening and understanding. For me it's not even like a job, it's doing what I want to do. This is home, and these are my people, and I want them to have what I have."
Joe Nayquonabe asked participants to look back to discover how tribes dealt with problems in the past. He stressed that parents need to "start being parents again. We need to be Indians again," he said. "We need to be Anishinaabe again."
Vern LaPlante, Tribal Relations Coordinator for the Minnesota Department of Human Services, served as moderator of the summit.
It was the second summit on the crisis of American Indian children in Minnesota. The first took place in September 2014 at Bois Forte Reservation in northern Minnesota.