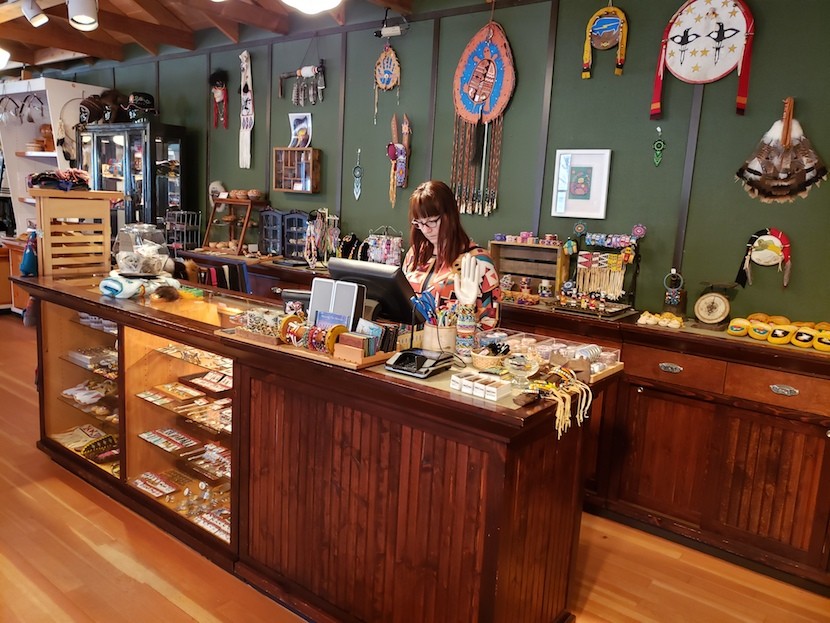 Story and photo by Amikogaabawiikwe (Adrienne Benjamin) Mille Lacs Band Member
Shelly Foster (Naawagiizisookwe) is the daughter of Mille Lacs Band Elder Nancy Foster. Shelly moved back to Mille Lacs soon after a successful and fulfilling college career because she wanted to work for the community that had given her so much. "The tribe paid for my college, and I felt that it would only be right to give back to them through community work and the utilization of my talents," said Shelly.
She has done just that. "I worked for the SHIP program for a year (a Health and Human Services state grant program), and I asked myself, "What do I want to do now?" I knew that I wanted to be working in some capacity with native art someday, and I told my mom that. Lo and behold, the very next day my mom brought me a job posting and said the buyer position at the trading post was open!"
Shelly's intent was to only stay for a few years and move on, as she considers herself a free spirit in the world, but the museum job has kept her here for eight years now. "I get to be around art. People put their spirit and love into the things that they make, and it's so beautiful and satisfying to be around it constantly and to see what people come up with. For me, you can see the artistic spirit of the person who creates art. They all have a definitive style, and it comes out through their designs and work."
Shelly's favorite part of buying and selling is a successful sale or trade, but not for the reasons that one may think. "I have a high appreciation for art and especially things that are handmade by Indigenous people, and connecting a maker with someone who really appreciates what they do is so rewarding for me."
She quickly realized that not looking like a "typical Anishinaabe person" would make her job a whole lot more interesting and sometimes even trying. "A lot of people don't think I'm Anishinaabe from here or that I know what I'm talking about. It's interesting to work at the museum because non-Native people will have biased conversations about Natives and think it's safe in front of me, and I will pipe up and say things in defense and to educate them to the best of my ability. At the same time, I also receive a hard time from people about the way I look in my own community. That hurts, and I have dealt with moments of not feeling good enough or Native enough, not just in this job but personally. It's such a funny thing that we make each other feel like that." 
While art has been Shelly's passion, she pursued other interests in academics that have fit well with her current position. "My degree is in urban studies because I knew nothing about being urban growing up on a reservation, so I wanted to learn about it," she chuckled. "I have a dance minor and have an elementary teaching credential as well. I was a teacher for five years, and it's connected to what I do here because we teach to youth and adults about history and traditional crafts. It's exciting to expand adults' experiences and their perspectives on the world and get them to think deeper about the world and how they treat other," Shelly added. 
Shelly credits the trading post's flawless curation to her own self-professed OCD. "I'm a perfectionist, and it can be a problem when I curate the store, because I want it to be immaculate." One is quick to notice the vast offerings of books, beadwork, delicacies, crafts, jewelry, and supplies that neatly flood the trading post atmosphere. 
"I like to focus on Minnesota art, but I also include other artists that I find at art shows, regionally and nationally. The bottom line is that I'm looking for things that are finely made. I want the highest quality work that we can find in here." 
In an effort to promote and welcome more work from Band members, Shelly has pushed for trading to be the true norm here. The museum allows full dollar-for-dollar value match on original work for beads, leather, or other supplies. One can even trade for a Pendleton blanket that they may have been eyeing, or a piece of beautiful ledger art. "Some people might not understand why they're not getting full value on a direct cash buy because we have to mark up to make money and keep our organization going, but with trade, I can give dollar-for-dollar match, and that makes me feel better about helping artists in that way," Shelly shared. 
The trading post has been a part of the Mille Lacs area for a long time, and the preservation and impression of it is important to Shelly. "When someone walks into the store, I want them to feel welcome, bimaadiziwin as the vibe," she said. 
Customers can smell sweetgrass and sage when they walk in. They hear traditional music. Shelly hopes to create a feeling of well-being inside the shop — a space that feels good to the senses. "People often share their stories that are inspired by walking through the store as a kid seeing, smelling, and even tasting the offerings, and being inspired by the art," Shelly said. "To me, that's what it's all about."