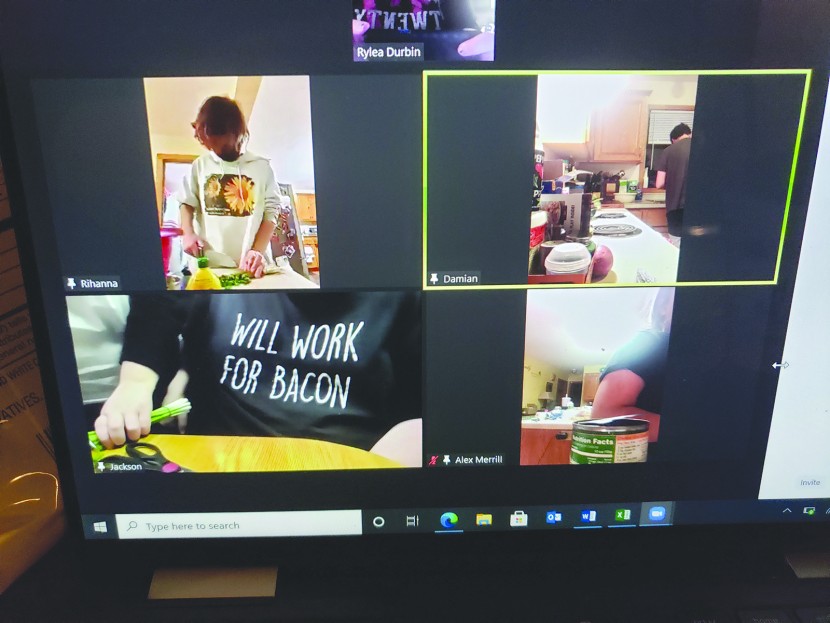 Ge-niigaanizijig — a merger of the Niigaan and Wiidoo youth programs — was brand new when COVID-19 hit last spring, so the staff had to act fast to shift programming online and keep kids learning and engaged in positive activities.
Several clubs — art, books, fitness, cooking, and music — have been created for youth in all districts, in addition to a Youth Assembly (as described in the January issue of Ojibwe Inaajimowin).
In District IIa, clubs are led by Youth Mentors Rylea Durbin and Jackson Pratt under the supervision of Jen Gahbow.
Rylea has been a part of youth programs in Chiminising for many of her 22 years. After moving to the area with her grandparents at age 14, Rylea, a member of the Cherokee nation, participated in the program while attending Isle High School.
While still in high school, she worked as a temp with the elementary kids, and after graduation in 2017, she took a job with the Niigaan program, which morphed into Ge-niigaanizijig at the end of 2019.
Rylea was there for the transition to online programming through Zoom, which was challenging, but worth it in the end.
Just before COVID-19 hit, Rylea had come up with the idea of creating clubs for youth in the program.
"We decided to do that because some of our kids weren't very active," said Rylea. "They were bored and wanted things to do, and the clubs let them choose what they like and give them something to do besides play video games and hang out."
Although the fitness club hasn't taken off via Zoom yet, everyone has chosen at least one club, and several of the kids are involved in two. Rihanna has the record currently as a member of four clubs: books, art, culture, and cooking.
The cooking club is the most popular, with eight members from Chiminising. "Cooking club is something I really enjoy," said Rihanna. "I like the freedom we get and how we also get to learn how to cook. And I like that we get to try cooking new meals."
Makiah agrees: "I love the cooking club. It teaches me to make really good food, and my favorite dish was the pork chops in soy and honey sauce."
Rylea likes the fact that it teaches life skills — not just cooking, but safety in the kitchen, food safety, and nutrition. They expected it to be "a big mess, especially over Zoom," Rylea said, but it hasn't turned out that way.
That may be because kids have some control over the content. They've chosen the dishes they've learned to cook, including chicken wings, Chinese pork chops, mac and cheese, apple pie, pasta, and burritos.
Program staff do the shopping and drop off supplies the day before or the day of the class.
One of the highlights for Rylea was a session imitating the show "Chopped," where cooks create dishes out of a collection of "mystery ingredients."
Mentors dropped the ingredients off at the students' houses, and the kids used their creativity to work wonders. "They did amazing," said Rylea. "It really got their minds flowing, and it was fun to see what they've retained from the previous classes. One made Zuppa Toscana, some made stir fry, some made Italian pasta. One made nachos, but using potatoes."
While the cooking club is the most popular, Rylea expects the others to catch on, especially once the pandemic subsides. (It's hard to teach beading via Zoom!)
She encourages youth in all three districts to get involved in the Ge-niigaanizijig program.
"It's a great opportunity for any kid who wants to be surrounded by peers and get experience they need in the future," said Rylea.