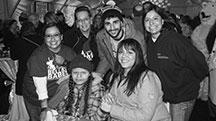 By Sarah Barten, April 7, 2015
On Friday, March 6, more than 30 Minnesota executives — including Commissioner Joe Nayquonabe, Jr. and Mille Lacs Corporate Ventures' (MLCV) Mike Engel — loosened their ties, tossed their suit jackets aside and took an icy dip into Lake Calhoun, raising over $200,000 for more than 8,000 Special Olympics Minnesota athletes.
What made the night even better was the Special Olympics Minnesota athlete who was featured — Bella Boyd, daughter of Mille Lacs Band member Adrienne Benjamin.
Grand Casino Mille Lacs and Grand Casino Hinckley sponsored that special evening, so Joe was asked to say a few words about what it means for Grand Casino to support Special Olympics. Joe immediately thought of Bella.
Bella is a Special Olympics athlete and the inspiration behind one of the largest plunge groups at the Mille Lacs plunge location — Bella's Babes. When Bella was five weeks old, she became extremely sick and had a hemispheric stroke that caused permanent damage to the left side of her brain.
Adrienne knew her daughter was a fighter and wasn't about to give up. She signed Bella up for therapy and brought her to several different doctors who all worked hard to push Bella and give her the best chance to overcome her medical situation. She has had her ups and downs over the years, but not only has she beat all odds against her, she has thrived and grown up to be an amazing young girl.
This fall, her mom noticed some hesitation in her ability to get around the house as she normally did. After a series of doctor appointments, Bella underwent hip reconstruction surgery on December 2, 2014. Her doctor also made surgical cuts to specific tendons to help loosen the muscles in her affected leg. "This was a tough decision for me," Adrienne said. "I needed to make sure the benefits would outweigh the dangers and pain for her. The surgeon reassured me that this surgery would give Bella the best chance of walking, which is something we have been working towards."
In January, Bella started aggressive therapy and has already made tremendous strides. "We are all excited for her future and the possibilities of her mobility," Adrienne said.
What people saw the night of the Executive Plunge was exactly who Bella is — a funny, smart, charismatic girl who loves being a part of her family and friends' lives. Even Ricky Rubio of the Minnesota Timberwolves had a chance to meet Bella!
Adrienne said Bella has found joy in Special Olympics competing with her school team — the Mille Lacs Raiders. She competes in bowling, basketball and track and field events each year. Adrienne said she is so appreciative of Special Olympics Minnesota because it gives her daughter a fun and accepting place to celebrate her wonderful accomplishments. "It has given me a new way to be proud of her and opened my heart to the true beauty of Bella's world."
The world Special Olympics creates is one of love, kindness and inclusion. "We are inspired by the tremendous work this organization does. Inclusion and acceptance are values our company stands for and we are proud to sponsor the Executive Challenge and the 4th Annual Mille Lacs Plunge," Joe said.
The night ended with a big round of applause for Bella and all the Special Olympics Minnesota athletes.
Related article: Mille Lacs Polar Bear Plungers Raise More Than $42,000!