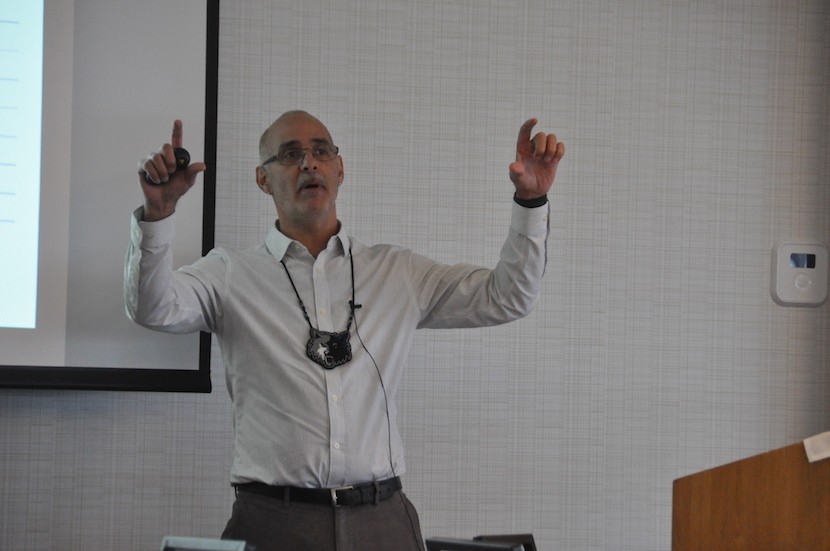 In recognition of Native American Heritage Month, the Department of Natural Resources sponsored visits by two American Indian professors in November.
On November 15, Dr. John Gonzalez, a professor of psychology at Bemidji State University, gave a presentation at Eddy's Resort titled "Two Sides of the Same Coin: Race Relations and Economic Disparities."
On November 29, after this issue of Ojibwe Inaajimowin went to press, Dr. Anton Treuer spoke on "The Real Story of Thanksgiving: An Honest History." (For more on that presentation, see millelacsband.com.)
Gonzalez summarized his presentation as follows: "Despite the modest gains from Indian gaming, American Indians continue to be plagued by poverty and high rates of unemployment. This is not simply the result of meritocracy (those who work hard can succeed and those who don't work hard won't succeed). Instead, the economic inequality is the result of historical policies and practices against Native people, and current perceptions around race relations in our communities. This presentation will look at local, regional, and state economic data and a recent study that looked at race relations between American Indians and Whites.
Embedded in the data are many stories. Finally, some suggestions and ideas will be offered on how to make local businesses and employment opportunities more open and welcoming to Native people that will be a win-win result for everyone."
Dr. Gonzalez presented graphs illustrating lower rates of educational achievement and home ownership and higher poverty rates due to discrimination and a clash between competitive non-Indian culture and cooperative Indian cultures.
He shared data showing the clear differences in perceptions about race between Whites and Native Americans. For example, Whites are far more likely than Indians to believe that racial discrimination is a thing of the past, and all racial groups have equal opportunity.
He also explained how "confirmation bias" leads to discrimination. People look for evidence to confirm their assumptions, which helps to explain why Native Americans are targeted while shopping, even though most shoplifters are white.
He also shared stories about growing up on the White Earth Reservation, being kicked out of Waubun High School in ninth grade, being profiled for his long hair, and eventually becoming a professor and a Bemidji School Board member.
He said he ran for school board in part because in 2014 his son was taught about "hostile" Indians and made to draw pictures of Christopher Columbus in social studies class.
Dr. Gonzalez is Ojibwe/Anishinaabe from White Earth and a Professor of Psychology at Bemidji State University, where he also received his undergraduate degree in psychology. He received his PhD in Clinical Psychology from the University of North Dakota.
Dr. Gonzalez's professional interests are in cultural psychology, which attempts to understand people as cultural beings through their own Indigenous psychological perspectives; multicultural psychology, which takes into account the people's cultural, historical, and sociopolitical contexts; and community psychology, which actively works to enhance the strengths and quality of life in communities.
Dr. Gonzalez's research interests are in the areas of mental/ behavioral health disparities for Indigenous people and ethnic/ racial minorities. He has worked with Indigenous communities utilizing local cultural knowledge and values in developing suicide and substance abuse prevention programs. Dr. Gonzalez has also investigated the racial experiences of American Indian students and Native people's racial experiences accessing healthcare.