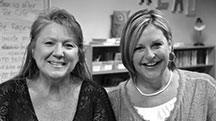 By Toya Stewart Downey, September 4, 2015
With the first weeks of school already behind them two of Nay Ah Shing's veteran teachers took time to talk about their long teaching careers, what excites them about being teachers and the best part of their jobs. For both women the anticipation of returning to the school they've taught at for over two decades and to the community of students they love was hard to contain. Next month the Inaajimowin will feature the stories of two other long-time teachers who have worked for the Band-operated school.
There are often stories about how a teacher inspired a student to take new challenges, to live boldly or to choose a career that they may have never thought to explore.
This is the case with Mary Schuh, a first grade teacher who began her career in a classroom in 1992. Her inspiration to become a teacher was her own elementary school teacher, Barbara Randalls. She had a deep admiration for Ms. Randalls and the two kept in touch beyond high school.
"She kept encouraging me to pursue higher education. I decided to go college when I was 24 years old. I love children and that is why I chose to become a teacher," said Mary, who taught for one year in Minneapolis at the Hans Christian Andersen School before coming to Nay Ah Shing in 1993.
Mary took a one year leave of absence in 2001 to teach at St. Cloud State University. She taught mathematics, language arts method courses and supervised student teachers during their student teaching experience.
For Marie Hendrickson the decision to become a teacher was easy — she liked being a student, enjoyed learning new things and believed that helping others learn would be very rewarding.
This year marks Marie's 25th year at Nay Ah Shing. She teaches second grade and said she was really excited for the school year to begin.
"I couldn't wait to see their smiling faces and get some long-awaited hugs," said Marie. "Over the summer break, I think about the kids a lot and I miss them."
Before coming to Nay Ah Shing, Marie worked in the Cambridge school system for a year.
"I love to see the spark in a child's eye when they finally get it," she said. "I also enjoy the Native American culture and language that is a part of each school day."
For Mary the best part of her job is impact she has on her students.
"The best thing about teaching is that I get to pass on my enthusiasm for learning and watching the excitement in my students' faces as they learn new things," she said.
Even though she's a veteran teacher with many years behind her, Marie said she is always excited about each new school year.
"Every group is different and unique with many different abilities, humor, and talents," said Marie. "I enjoy getting to know each of them personally."
Both women say that even though there are challenging times, such as dealing with difficult behaviors or helping students get caught up when they've been absent, the rewards are greater.
Shortly before the school year began Mary said she was excited to learn about her new students, their interests and their families. She also urged parents to make sure their children get enough rest and maintain a regularly scheduled bedtimes.
Marie advised that families should share in the excitement of being back in school.
"Support your child by helping with homework, showing interest in their school day, be positive role-models and get your child to school every day on time," she said. "My advice for students is to work hard, have fun, make friends, and be kind. I always say to my students 'work hard and then you can play hard too.'"
Mary is from the Te-Moak Tribe of Western Shoshone Indians. She was born in California. She served in the United States Air Force and during that time traveled to the Philippines, Korea, Japan, Texas, and South Dakota. She was honorably discharged from the Air Force and moved to Minnesota to attend St. Cloud State University.
She graduated with honors and received a Bachelor of Science degree majoring in Elementary Education. She received a Master of Arts Degree in Education and graduated with honors from Saint Mary's University. She has two children Paul and Lucas, a grandson named Joshua and is anxiously awaiting the birth of another grandson in September.
"I love spending time with my grandson and my grown children," said Mary. "I also like to travel home to visit family and friends."
One of the joys of teaching at Nay Ah Shing for 22 years is that Mary is now teaching students whose parents she had also taught.
"It is also wonderful to see many of the students I have taught working in their community," she said. "It is a great feeling to be greeted with a warm smile from a former student at the casino, clinic, school, or government center; it makes me feel like I am a part of this community."
Marie said she is "honored and thankful to work at Nay Ah Shing" and has enjoyed her long career at the school.
Marie was born and raised in Milaca. She still lives there with her husband of 25 years, Todd. The couple has one daughter, Chloe. The family loves to camp, fish, drive their rat rods, travel, be with friends, and spend time with extended family.
Marie graduated from St. Cloud State University in 1989 and took classes the following year for Special Education licensures. She also received a Master of Arts Degree in Education from Saint Mary's University.