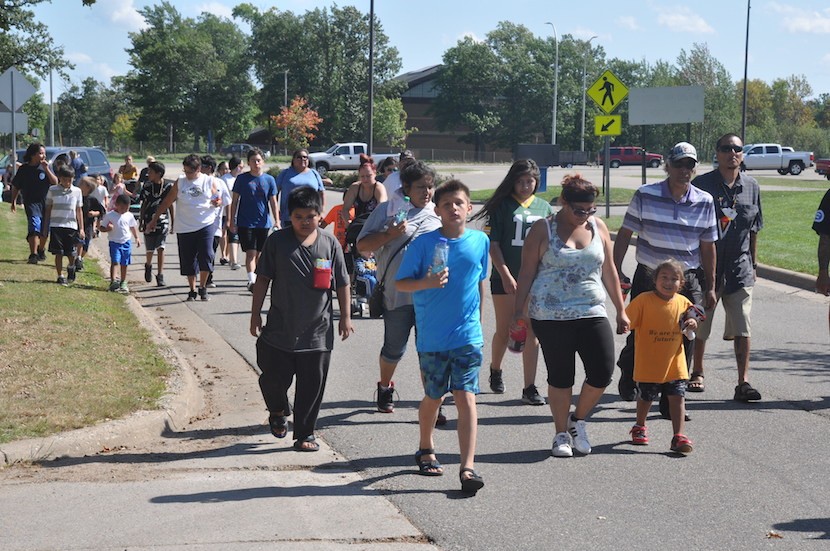 On Sunday, September 16, at noon, most Minnesotans were sitting down in front of their televisions to watch the Vikings–Packers game.
About 100 Mille Lacs Band members and friends, however, chose instead to take a walk to bring positive healing energy to their community.
Led by members of Sober Squad and Natives Against Heroin, they met at Grand Market where they smudged down with sage and greeted friends before setting off down Ataage Drive behind the flashing lights of a Mille Lacs Tribal Police car.
Hand drums and voices rang out, and Randell Sam led chants of "Sober Squad," "Natives Against Heroin," and
"Whose community? Our community" as Elders, adults, chil- dren, babies, and even dogs marched toward Ojibwe Drive.
The procession stopped for a song, a moment of silence, and smudging of the home where Benji Blake Jr. passed away on the previous Sunday afternoon, September 9.
Word of a smudge walk in the neighborhood began to circulate as the community grieved the death of Benji, who was shot while walking along Ojibwe Drive.
Benji, the son of District I Representative Sandi Blake and her husband Benji Blake Sr., spent most of his life in the Vineland community and was a beloved friend and family member to many.
His murder was the second in three weeks in District I On August 20, Ronald Benjamin was fatally stabbed at a local gas station. Matthew Scott Smith has been charged with two counts of second-degree murder and one count of third-degree murder.
The smudge walk continued across Highway 169, with assistance from two Tribal Police officers who stopped traffic, and ended at the park by Mille Lacs Lake on Virgo Road, where walkers were met by Elders and others who were unable to walk but wanted to show support.
As they waited for food to arrive, they listened to the flute songs of Max Blake, Benji's younger brother, and an invocation by Bradley Harrington.
Bradley talked about the first community smudge walk that took place in September of 2017 in response to the opioid crisis the Band has been facing.
He acknowledged that some have asked whether those efforts have worked, considering the continued drug abuse and violence. Bradley pointed to the efforts of Sober Squad and Natives Against Heroin. "More and more people are getting sober and helping each other," he said. "It's working."
He also spoke in English about his invocation, saying he had given thanks and asked for help from the manidoog (spir- its) of the four directions, the lake, and the animals that give themselves so the Anishinaabe can live.
After a lunch of Dawn Day's frybread and taco fixings, Lloyd Keoke, a long-time community member who has helped many people recovering from drug and alcohol abuse, spoke about a sister who had recently passed away and sang a song for those left behind by the recent deaths in the community.
Luther Sam, one of the organizers of the event, asked those present to think about ways to heal the community in preparation for future walks, meetings, and ceremonies.
Want to talk to someone?
Our community has experienced more than our fair share of grief and stress, especially over the past two years. Our Elders and spiritual leaders are excellent people to talk to, and we also have experienced counselors who are ready to help. Our resources are confidential, and they include:
• Mille Lacs Band Behavioral Health: 320-532- 4754 (available to any Band member)
• Mille Lacs Band Government Employee Assistance Line: 800-383-1908 (for government employees)
• Mille Lacs Corporate Venture/Casino/Business employees: OPTUM at 800-626-7944 (for any employee of MLCV, the casinos, or Band-owned businesses)
• 24-Hour Crisis Line: 866-867-4006 (for any community member).