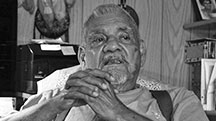 By Brett Larson, September 1, 2015
Dale Greene (Kaadaak) has a dim memory of a dark day for the Minisinaakwaang community. As a small boy, he was living on the shores of Rice Lake when he and the other Anishinaabeg were forced to move.
It was the last in a long series of attempts by the U.S. government to get the Rice Lake Band to relocate. The government initially promised the Band a reservation in 1855, but the reservation was never platted.
In 1935, Rice Lake was declared a National Wildlife Refuge, and the Anishinaabe residents — Dale among them — were forced out. Some scattered to White Earth, Mille Lacs, Fond du Lac and Wisconsin communities, but five families moved to East Lake, where there was a small village and a railroad station. "There was a storekeeper in East Lake who let us stay in an old store," Dale recalls.
Dale wasn't there long. He came down with tuberculosis and spent five years in the hospital in St. Paul. After being home for less than a year, he had a relapse and was hospitalized again for three years.
Dale understands the loss of language and culture that so many of his contemporaries experienced when they were taken from their families and placed in boarding schools. He went to St. Paul speaking only Ojibwe and returned speaking
only English.
"I lost everything there — my language, and my ability to love," Dale says. "There was no treatment then, just fresh air and bed rest. The nurses and doctors were strictly professional. They couldn't hold you or kiss you or touch you. You just suffered. I must've been pretty goddamned tough."
Dale never knew his father, a white man from Wisconsin, and his mother died in 1943. After she passed away, Dale lived with his foster parents, Jack and Maggie Misquadace. "They tried to teach me, but I didn't listen much in my younger days," he says.
In spite of his illness, he did everything the others boys did — skiing, swimming, even boxing. And he got into his share of trouble. "I made a lot of mistakes," he says. "I think everybody does, but you have to learn from them."
As Dale grew into adulthood, he picked potatoes, cut wood and attended trade school. He eventually married Mary Pequet from Leech Lake and moved to the Twin Cities, where he worked at a variety of jobs in manufacturing.
He would spend weekends at East Lake, becoming more and more involved in Anishinaabe culture and politics. His "teacher," Dale says, was George Aubid — a leader of the East Lake community.
Dale used to drive George around the state and listen to him talk about history and how tribal governments were violating the constitution and following the philosophy of the dominant culture. "They called us dissidents," Dale says with a smile.
He finally came home to stay in the early 1970s. He got into the rice business, buying rice from Indian harvesters, then processing it and selling the finished product.
In 1998, he purchased Ralph Sandberg's wild rice equipment and operated a rice finishing business for 15 years.
Dale is a grandfather and great-grandfather many times over. He speaks with pride of his son, Dale Jr., who inherited his father's interest in history, politics, culture and law.
"I'm 82 years old, but I still have a zest for life," Dale says. "I like to get out there and fight."
Dale lives in McGregor but is active in the Minisinaakwaang community as a Drumkeeper, and he stays informed about current events, including the proposed Sandpiper pipeline that would run through the Rice Lake and Sandy Lake watersheds.
To Dale, it's another in a long series of injustices perpetrated against the Indian people. He fears for the lakes and rivers if pipelines are built and mines established, just as he fears the loss of language, culture and traditions as young people are lured by smartphones and other features of the dominant society.
He says they're learning "the white man's philosophy — how to step on somebody and make a buck."
"People don't use their eyes and ears anymore," he says. "All that education we get today, we had all that before there were schools — mathematics, science, history."
He's also sad that people in Native American communities don't socialize like they once did, and that relationships are not as strong. "When someone came to visit, they rolled out the red carpet. In the old days, a handshake was deep. It really meant a lot. Today it's just a gesture. There's no feeling behind it."
Dale's Indian name is Kaadaak, which means "root." He was given the name by an old medicine lady from Mille Lacs. It's a good name for a man whose roots stayed strong in spite of the challenges he faced.
"My story reflects what a lot of Ojibwe went through. When I got out of the hospital, I had a hard time. If someone tried to hug me I'd push them away. I was like that until I was 35 years old."
He says his children knew he loved them, but there were few hugs and kisses. His grandchildren helped him learn to show affection.
Dale fears that today's youth are also suffering from a lack of nurturing and love, which shows up as disrespect and risk-taking behavior.
Dale believes there's hope for today's youth, just like there was for him, but they need to remember what's important. "Our culture helps us overcome mistakes," he says. "We were given this body, and we have to take care of it, because it's the house for our soul."
Throughout his painful childhood, one thing remained constant. "I always knew I was an Indian," Dale says. "I just knew I belonged in the Indian culture. I knew they loved me, and I loved them. They didn't take that away from me."