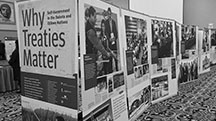 By Andy McPartland, April 2, 2015
The annual Treaty Rights Celebration was held on March 20 at Grand Casino Mille Lacs, hosted by the Band's Department of Natural Resources.
The Band holiday marks the day in 1999 that the U.S. Supreme Court ruled that Band members retained rights to hunt, fish and gather in areas ceded to the U.S. in the Treaty of 1837.
Drawing 500 attendees, the event featured informational booths, arts and crafts projects, door prizes, and games for kids and adults.
Vendors set up informational booths for attendees to learn about a wide variety of topics, from animal pelts to rock formations. Children were particularly thrilled to climb aboard a snowmobile used by the police department.
Visitors were excited to see the prize packages, including two trips: a ricing package that included rice knockers and a canoe, and a spring harvest package, which included nets, buoys and a canoe.
The yearly celebration aims to educate Band members and the greater community about the 1837 treaty rights.
Miigwech to everyone who helped put this wonderful event together!