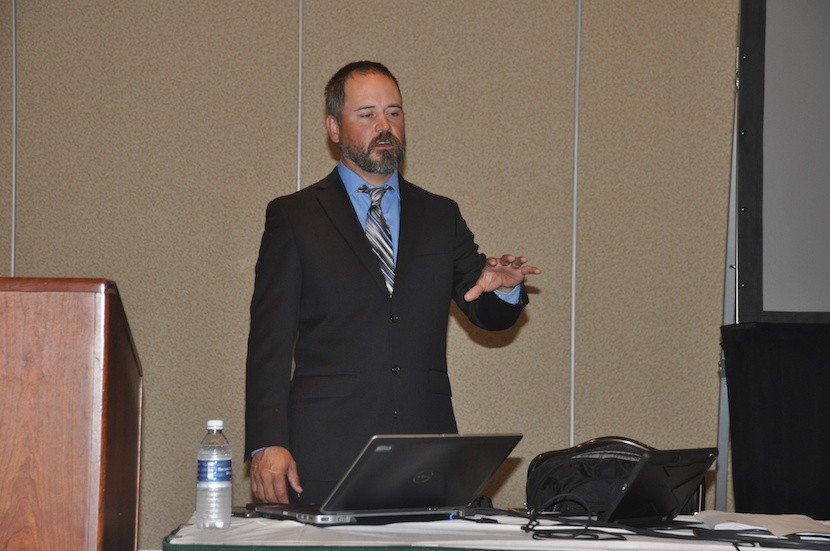 The Bureau of Indian Affairs Drug Enforcement Division has been active in Mille Lacs Reservation communities since the Band's request for federal law enforcement help under the Tribal Law and Order Act was granted in 2016. After Mille Lacs County rescinded its law enforcement agreement with the Band later that year, the BIA stepped up its efforts to help with law enforcement in the region.
On July 10 at Grand Casino Hinckley, Special Agent Tim Proctor, who is based in Sioux City, Iowa, gave a presentation on opioids and heroin in Indian Country to a small but engaged group of Band members — including Sober Squad and Natives Against Heroin members.
Proctor is an enrolled member of the Cherokee Nation and was a "street cop" for 11 years before joining the BIA six years ago. He is one of only 30 agents in the Drug Enforcement Division, and his region covers seven reservations — the furthest of which is a 3-1/2-hour drive from Sioux City.
The agency is clearly understaffed, Proctor said, especially given the effect of the nationwide opioid epidemic on reservations, but fortunately the BIA is adding another 15 agents — a 50 percent increase.
Proctor's presentation covered the science of opioids, their history as prescribed medicine and illegal drugs, warning signs of drug abuse, short-term and long-term effects, withdrawal, and the dangers of new opioids like carfentanil.
Proctor also talked about naloxone (brand name Narcan), the overdose-reversing chemical that has become an important life-saving tool, but he warned that new varieties of fentanyl and carfentanil are resistant to naloxone.
He concluded by talking about the importance of community action and willingness of individuals to turn in dealers.
"People ask me what I'm doing about the drug problem," Proctor said. "Whatever I can do about the drug problem, it's not going to be enough. It's going to take the entire community.
Somewhere along the way we went from being Native tribes, one big family, helping everybody who's in need, to this 'no- snitch' culture. And this no-snitch culture is killing our people because nobody wants to say 'That's the drug dealer.'"
Natives Against Heroin member Luther Sam said the community has begun to turn away from that "no-snitch" culture, but it is difficult to get convictions given due process.
Proctor said due process is guaranteed by the Constitution, so people need to be willing to testify and give their names to help police get search warrants and evidence.
After his presentation, Proctor showed the video "Chasing the Dragon: The Life of an Opiate Addict." Search the title at youtube.com to watch the video.
Proctor also shared the number of the SAMHSA National Helpline, a free, confidential, 24/7, 365-days-a-year referral and information service: 1-800-662-4357 (HELP) or TTY: 1-800-487-4889.