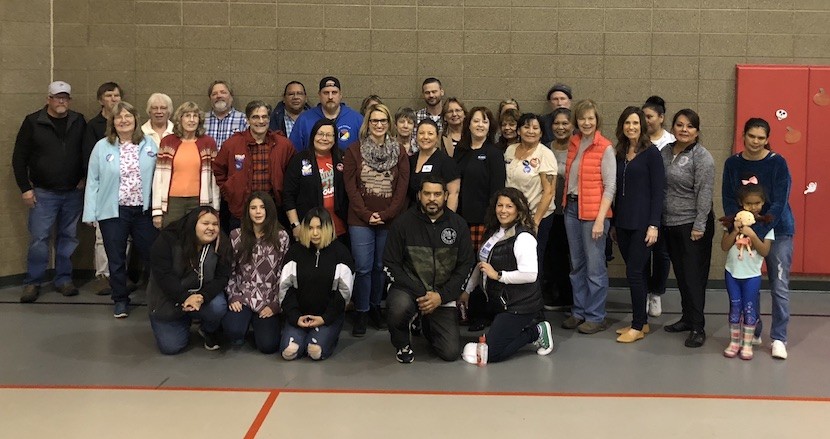 Democratic candidates for state and federal office showed their support for tribal sovereignty and their friendship with the Mille Lacs Band by speaking at a series of rallies in Mille Lacs Band communities on Friday, October 26.
After beginning their day at Meshakwad Community Center in Hinckley at 9 a.m. and then heading up to East Lake, where they were greeted by an enthusiastic group of students, the contingent of candidates met voters at Chiminising Community Center for a lunch-hour potluck.
Emy Minzel, DFL candidate for Minnesota House in District 15A, spoke about her commitment to represent all residents of the district, not just those who share her political views. She also stressed the importance of clean water and the Mille Lacs Lake tourism economy.
Emy said she became a mother three days before she turned 17 and relied on help to raise her daughter. "It's a Minnesota value to care for each other," she said.
Julie Blaha, who is running for State Auditor, drew some laughs with her self-deprecating style. "I know you all came out here to meet the person who's running for State Auditor!" she joked. Julie talked about what the Auditor does and asked community members for their votes November 6.
The star of the show for many Band members in attendance was White Earth Band member Peggy Flanagan, who is running for Lieutenant Governor as Tim Walz's running mate. Peggy talked about her childhood in St. Louis Park as "the kid with the different-colored lunch ticket" who had asthma and relied on Medicaid for healthcare. "Some people talk about 'those people,'" said Peggy. "Well, I am 'those people.'"
Peggy was followed by Tina Smith, who was Lieutenant Governor under Mark Dayton before Dayton appointed her to replace U.S. Senator Al Franken.
Later in the afternoon, the group traveled to the District I Community Center, where they were met by Secretary of State Steven Simon and Eighth District Congressional candidate Joe Radinovich.
Steve said his mission is simple: to make it as easy as possible for people to vote. He talked about a former Secretary of State, Republican Mary Kiffmeyer, who tried to make it illegal to vote with a tribal ID. She and other Republicans also attempted to pass a Voter ID amendment that was voted down by Minnesotans.
Joe is in a close race to replace Rick Nolan as the Eighth District's representative in Congress in Washington, D.C. Joe talked about how good jobs have been replaced by automation, and the new jobs don't have the salary and benefits to keep up with the rising cost of living. He vowed to work to lessen the influence of big money on politics and to honor tribal sovereignty and treaties as the law of the land. He talked about the tax bill passed by Republicans in Washington that gives 80 percent of the benefit to the richest 1 percent of Americans, while they are threatening to cut Social Security and Medicare. "We have to change the way we do politics in this country," he said.
Election Day Events
On November 6, polls will be open from 8 a.m. until 8 p.m.
The Government Affairs team will provide rides to the polls in each district. Call the office at 320-495-5006 or Katie Draper, 320-515-0846; Jamie Edwards, 612-850-2124; Shena Matrious, 320-279-3132; or Darla Roache, 320-443-5351.
Before or after voting, come for free brunch between 10 a.m. and 2 p.m. at District I, East Lake, Chiminising, and Meshakwad community centers. In the urban area, come to the Minnesota Chippewa Tribe Urban Building at 1508 East Franklin Avenue in Minneapolis.
If you would like to help with Election Day activities, please call Government Affairs staff members listed above for more information.