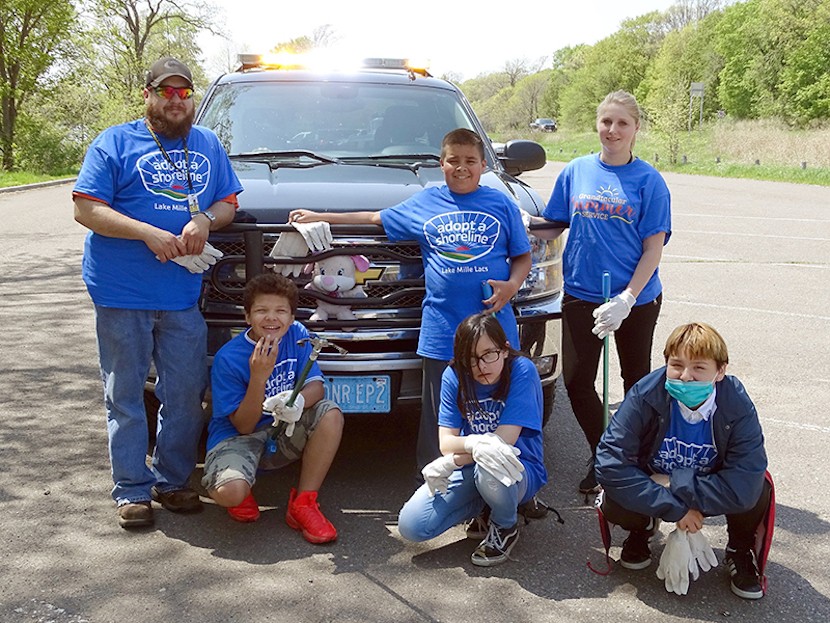 At the end of every winter, the need for shoreline clean up around Misi-zaaga'igan is answered by the Adopt-A-Shoreline program, which tackles the issue of beach litter by taking out the trash.
Ranging from the usual food wrapper waste stemming from today's to-go culture to the abandoned fish house wreckage that washes up after ice out, the beaches and shores are well cluttered by Memorial Day, especially after the holiday traffic. For several years now, Adopt-A-Shoreline has orga- nized a large-scale one-day effort to clean up Mille Lacs Lake solely with the help of volunteers.
The Adopt-A-Shoreline event this year was sponsored and organized by Mille Lacs Corporate Ventures, Grand Casino Mille Lacs, Mille Lacs Band of Ojibwe Governmental Affairs, and Mille Lacs Band Department of Natural Resources and Environment. Volunteers are invited to walk into the Grand Casino Mille Lacs Event Center and sign up at any time throughout the event. Gloves, trash bags, a t-shirt, a box lunch, and pick-up sticks are provided. Trash can be picked at any shoreline as long as it is left at one of the designated drop-off locations that are arranged all around the lake, mostly at public water accesses. The event was promoted in local newspapers and on social media, and anyone was welcome to participate.
This year's and past Adopt-A-Shoreline events have seen a wide range of strange and interesting objects pulled out of the weeds, including buoys, drive shafts, stuffed animals, carpet, household doors, flip-flops, action figures, and of course the bits of plastic and styrofoam that inevitably get into everything. Last year's event collected 1,200 pounds.
Past participants Amy Weisgram, Liz Murphy, and Barb Johnson returned to adopt the shoreline around the Cove Public Water Access this year. The weirdest thing they found, they said, was one bottle of a nutritional supplement beverage mixed in with a discarded pile of beer cans. Picking up trash can lead to a lot of speculation.
More importantly, though, it's about the water. Water is life, all the participants seemed to agree. "It's as simple as that," said Liz. "The earth is our responsibility, especially as Band employees, not only as part of our job, but as part of the community."
Third Grade Nay Ah Shing Students Demario Smith Gomez, 12, and Jason Wind, 11, said Adopt-A-Shoreline and keeping the shores and waters clean is important for our future. "We want to have clean water for our children," Jason said, quickly adding, "if we have any!"
This year's effort was one more step in the right direction. Over 90 volunteers picked up 1,300 pounds of trash in just four hours. Participants said they would definitely volunteer again, and many said they would like to see more frequent events like this. One volunteer even pointed out that any roadside clean up impacts our waters by preventing the litter there from being carried to our streams and lakes by storm runoff. Our waterways are a complex system which many people want to protect.
The success of Adopt-A-Shoreline starts with the sponsors and organizers but ultimately depends on all the volunteers. Chi-Miigwech to all those who participated. Keep an eye open for future events by checking the calendar in this paper and Mille Lacs Band social media pages, such as facebook.com/millelacsband and facebook.com/mlbdnr.
Above: Third Grade Students From Nay Ah Shing School posed with the Mille Lacs Band DNR's Adopt-A-Shoreline Mascot, a plush bear found during the clean-up last year. The bear has now been riding point for this DNR Environmental Programs truck for a full year, through work, winter, and washings.
Below: Amy Weisgram, Liz Murphy, and Barb Johnson of the Office of Solicitor General donned their muck boots and hit the south end of Mille Lacs Lake at the Cove Public Water Access. All three agreed that participating in this event is important because Water is Life, and in Amy's words, "It's just that simple."