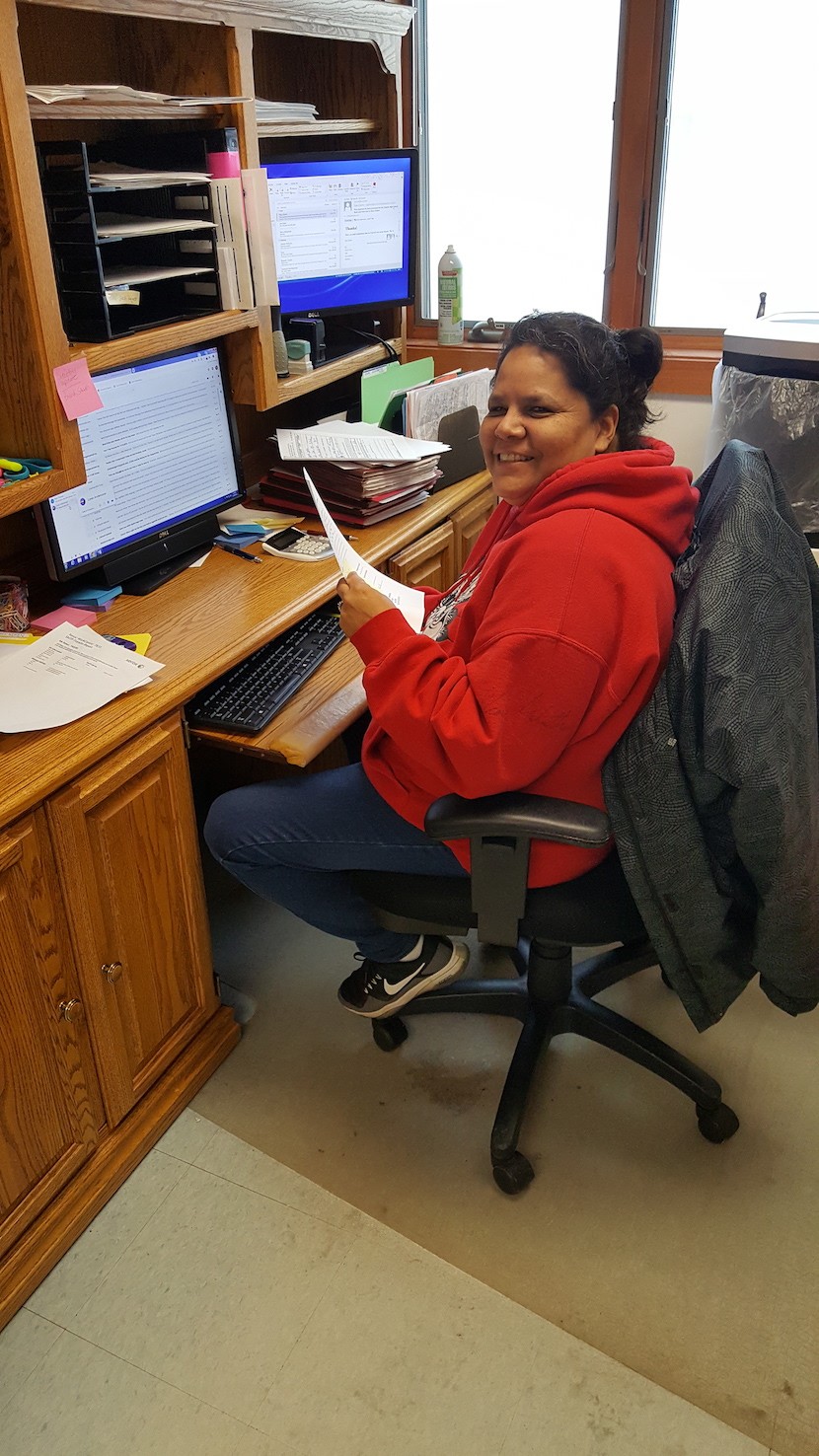 Story and photo by Amikogaabawiikwe (Adrienne Benjamin) Mille Lacs Band Member
Band member Michele Berger is a 46-year-old mother and full-time student. She also works at the Mille Lacs Tribal college handling all things scholarships. She recently received her associates degree in sociology from Fond Du Lac Tribal and Community College and quickly realized a passion for helping others in their own educational journeys.
"My spirituality and the constant support that I have from my friends and family have shown me that I, too, need to be and can be a source of support for others who may be facing similar hardships that I have faced myself," Michele shared.
The Mille Lacs Band scholarship program was a game-changer for Michele on her educational journey. "It truly made all the difference," she said. "I had serious doubts in my personal ability to reenter into school this late in life, but having classroom offerings locally bridged the gap between work and school." This led Michele to seek out a vacant position in the scholarship program where she could not only support herself but also give back to the program that gave so much to her.
Michele is in charge of program applications, tuition payments, and book fees. In addition to federal financial aid, she also provides various other resource opportunities for students. She ensures that students who ask are aware of Minnesota Indian, American Indian, and other minority scholarships for which they may be eligible. The program also celebrates each achieved academic milestone of each tribal member.
"Being a student myself, I understand the challenges of navigating the financial aid aspect of college registration," she added. "As I grow in this role, I can assist students so they can focus on their studies without having to worry about how their courses are being paid."
Utilizing her own experiences, Michele willingly shares her stories about own her ups and downs. She mentions the things that new and old students can expect from the college experience with prospective students that she works with.
"I was amazed at the cultural aspect that was offered at the Tribal school and the completely non-Indigenous viewpoint of the public school," she said. "I gained knowledge from the circular thought processes of my own traditional studies, as well as the linear thinking of academia in non-native classrooms. It was refreshing and eye-opening!"
Michele's story of educational triumph goes far deeper than college, however. When asked, Michele claims her own personal recovery as her proudest moment. She survived a self-proclaimed "serious period of addiction and alcoholism" and has now been in solid recovery for almost eight years.
"Having lost a child through an accident, and being separated from my remaining ones due to that, gave me drive and determination to turn my life around and provide a caring, nurturing parent for them when I returned to them," said Michele. "Everything I do now is with their best interest in mind."
Michele is now working diligently toward her Bachelor of Science in Psychology degree at Bemidji State University with a Criminal Justice minor at Central Lakes College and intends to bring those teachings, gifts, and understanding back home to Mille Lacs as a tribal social worker or youth advocate.
If you have questions about the Scholarship Program, email MLB.scholarships@millelacsband.com.
Miigwech Michele for your service to education and to your fellow students!