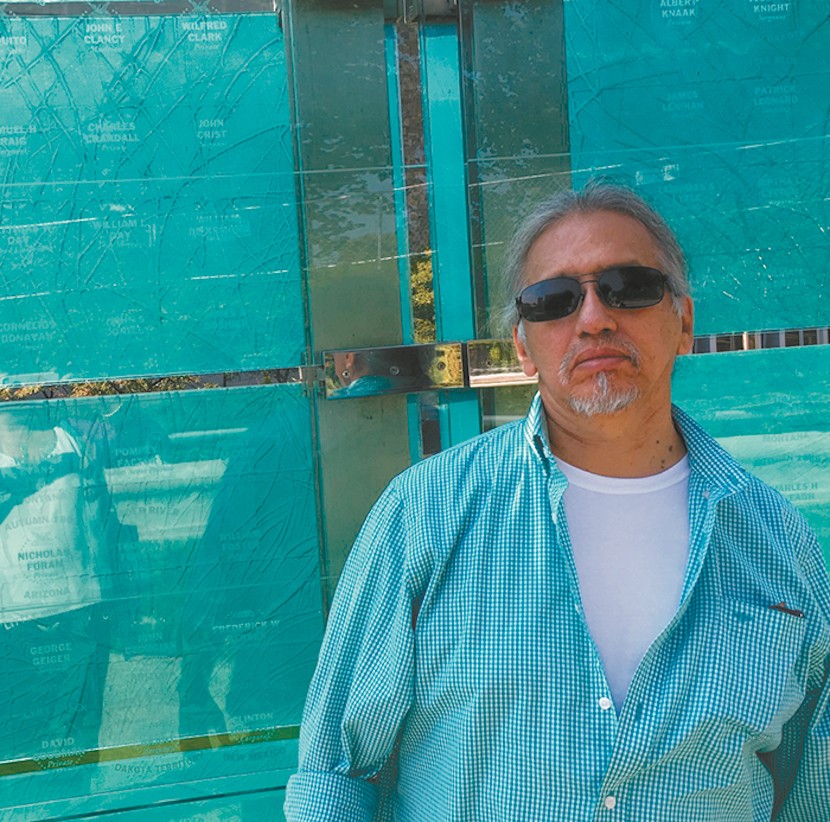 During the recent Mille Lacs Corporate Ventures garage sale, people were welcome to purchase almost anything in the corporate building, including some of the things that were nailed down. Even pictures came off the walls, and at least one savvy buyer was overheard saying, "Grab that one! It's a Steve Premo!"
Steve Premo is probably the Mille Lacs Band's most well- known artist, and his works are community fixtures throughout the ceded territories. Between painting, photography, and graphic design, Steve can be found woven into just about everything visual the Mille Lacs Band has displayed in recent years. Earlier this year, however, Steve announced he was hanging up his hat.
"On March 10, I got married, and on March 22, I had heart surgery," Steve says.
It was open-heart surgery, and he's still recovering from it. But he's doing well, adjusting to a life where he keeps telling people he's retired while coming up with new projects and polishing off a few that aren't quite finished. His new marriage to Brenda Child, Chair of the American Studies Department at the University of Minnesota, keeps him busy, too.
Steve frequently travels with Brenda as she discusses ethnohistory, presents papers, and accepts awards all over the world. Her work has given Steve the opportunity to see how Anishinaabe history interacts with the development of current public policy. Steve compares it to being on the crest of a wave, seeing just what happens before the waters settle into newly made American Indian policy. It's definitely thought-provoking and almost unavoidably a source of inspiration.
Inspiration started early for Steve. As a boy, he sustained a serious leg injury that almost resulted in amputation. He was scheduled to be moved to Gillette Children's Hospital for the procedure, but his mother Rose took him to traditional healer Jim Hanks first. Using traditional medicine, Hanks healed Steve's leg, and the amputation was no longer required. Full recovery was still a long journey, though, and to pass his time during it, Rose gave him art supplies. He learned to draw at the same time he learned to walk again, and it became something he just did.
It wasn't until third grade that Steve realized that the way he drew was different. As the class was doing art projects for Valentine's Day, Steve drew the best heart he could draw. It was an anatomical heart, and it got a little attention. The guys all thought it was pretty cool, but the girls weren't too impressed. The secret was out, though. Steve was always asked to draw things and remembers going around to microscopes in science class to draw his classmates' amoebas for them. In sixth grade, he got his first graphic design job producing the poster for his mother's quilting circle.
Steve's first trip to the Minneapolis Institute of Art was a revelation. He found he liked Rembrandt and other classics. He equated them to "footprints in history" and was taken with the idea that these images were given a special place on the wall and would be taken care of for a long time to come. Steve thought that he would like that for his work. It still wasn't until his brother Bill Jr. went to the Minneapolis College of Art and Design that Steve began to look past high school and understand that he could actually be an artist as a profession. That understanding led to a career in art and design that spans decades. Steve has done a lot of independent work, but in his words, "Painting feeds the soul; design feeds the kids."
Art has always been a way to start conversations for Steve, and it still is. His works tend to pose questions for the viewer. Look closely at the details and you'll find angles you might never have thought about. Is that person in the mural putting an obstacle in someone's path or moving it out of the way? It could be either. Steve's all about the questions, not the answers.
Look almost anywhere in Mille Lacs Band territory, and you'll see products of Steve's design. From the two-inch square panel of a comic book to a powwow flyer to a wall mural spanning the front of the District I Government Center, "Steve Premos" are everywhere.
If you ask Steve himself about legacy, he quips, "I'm not dead yet." But with a little reflection, Steve points out that he drew the first Grand Celebration poster, and he recently drew the poster for the 26th Annual Grand Celebration.
"I am nothing without the Mille Lacs Band," Steve says. "It is my muse, my inspiration."
For Steve, his legacy is simply contributing to the legacy of the Mille Lacs Band. His other goals were just to have fun and stay viable. As Steve shifts away from the jobs that feed the kids and focuses full-time on the work that feeds his soul, it is safe to say that he has stayed relevant and well-loved. He can even be assured that his work earned that special place on the wall many times over, and it will be taken care of for many generations to come.