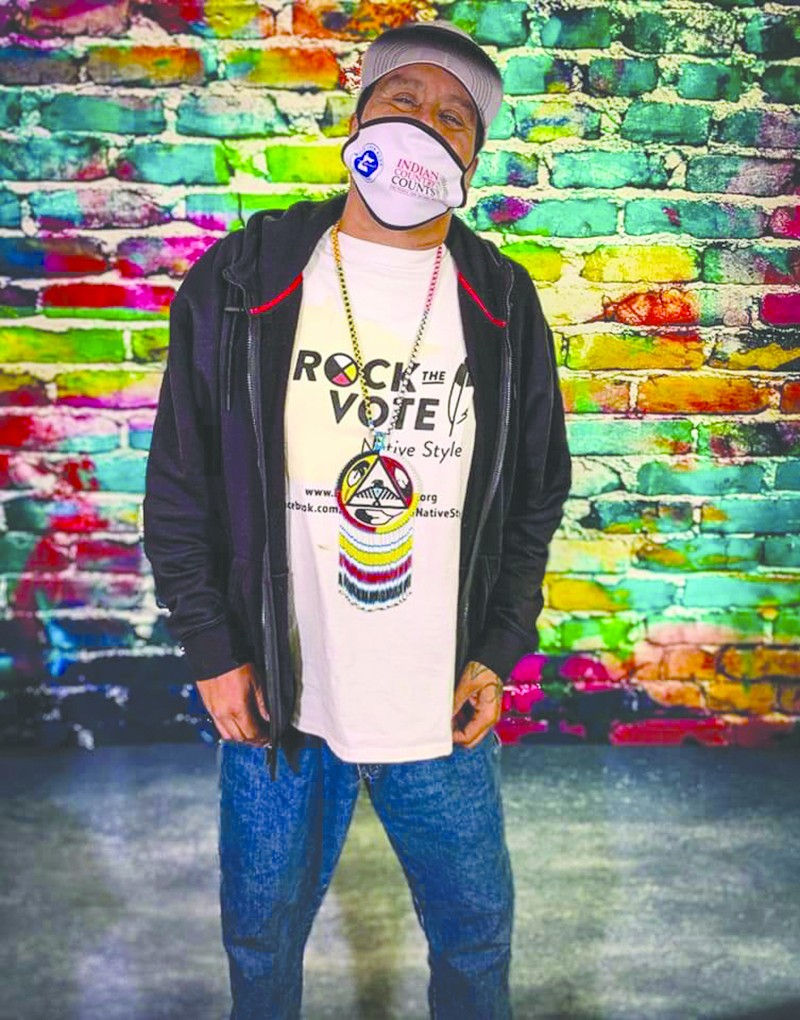 COVID-19 created challenges and opportunities
By Randell Sam Mille Lacs Band Member
I'm Randell and I'm in recovery. I have been in recovery for over 2 ½ years. I am a recovering alcoholic/addict who lives on the Mille Lacs Reservation. I was an active alcoholic/addict for 33 years. Through the support of fellow members in recovery, I have been able to turn my life around, even while dealing with many health issues due in large part to my alcoholism and addiction. I have found through recovery groups and 12-step programs that there is a better way of life. One thing that I have learned is that meeting makers make it. Prior to COVID-19, I was an active member in local support groups and meetings here on the Mille Lacs reservation and surrounding areas. It was through the support of others in recovery that I was able to maintain my sobriety during these trying times of quarantine and COVID-19.
Due to COVID-19, the substance abuse recovery community recognized that their sobriety was at risk. Relapse was up 30 percent, and this meant an increase in overdoses. Community buildings were closed, and everyone was scared. Not only were they dealing with the drug epidemic, they now were presented with a pandemic that presented further challenges. Not being able to attend sobriety meetings infringed on one of the most important aspects of recovery: fellowship and support.
What I have learned is that recovery measures are defying the odds. People think you can't get sober in the environment you got sick in, but in reality it makes you stronger. I have discovered that Native Americans, who are walking the Red Road, turn their attention and focus into supporting one another and helping their community recover. Due to the state shutting down mandates, I began holding a social distance campfire meeting at my home around the fire and built from there. Meetings needed to continue. We were careful to practice precautionary measures following the CDC safety guidelines. Even though anyone in recovery is at risk of relapse, people in the early stages of recovery are at highest risk, and that support is paramount.
Around March 2020, I decided to start an online support group for people in recovery.
The online Zoom meeting happens every night at 8 p.m. and is open to everyone. Although we honor a 12-step program and guidelines, we like to keep it more spiritually and all recovery focused. Everyone is welcome. It is up to you to find your own path to recovery, and a higher power of your understanding that will guide you. The average meeting has about 15-20 participants with a public speaker each Friday night. Participants take turns each night guiding the meeting, which allows for me to take some time for self-care and attend and support other recovery functions. Everyone in the group has a say on how meetings are run, and they also have a voice in any decisions that affect the greater group, which is how we came up with the name Zooming Towards Recovery. I could not have done this without the support of everyone in the group. Meetings are confidential and honor everyone's road to recovery.
Through the Zoom meetings, people find peer support, sponsors, spiritual connections and fellowship that helps them through the loneliness of isolation during this COVID-19 pandemic. Addicts are facing an opiate epidemic within this pandemic. Peer Support Specialists like myself link people to support and resources which includes linkage to mental health, relapse prevention, transportation to and from treatment, crisis intervention, and harm-reduction measures. I do not accept donations as this is not a non-profit or for-profit entity and everyone chips in to contribute to the monthly $16 fee to keep it going. However, I do accept donations of key tags and mementos so we can celebrate everyone's milestones in recovery through these challenging times. It is important for people to celebrate every victory through recovery, and it is important that we recognize we can only keep what we have if we give it away. I have even mailed recovery tokens to group members who are in areas that are more hard hit by isolation and lack of support.
Mille Lacs Band Member Lyndsay Mitchell expressed it well: "As a single mother in recovery and returning home, I rely on Zoom support meetings held by my fellow brothers and sisters during this pandemic. This is important to me because I need others to continue learning and evolving."
I found a greater need than just daily meetings, which led me to begin an online social meeting page on Facebook called "Zooming Toward Recovery." This is a chat room that provides added support and networking for individuals in recovery. The online support group has grown to approximately 340 members from all over the world and is still growing. Someone is always listening (reading) 24 hours a day.
When in-person meetings and clubs began to slowly reopen, there was and is still a fear of COVID-19. A group vote was taken, and it was decided that it was imperative that Zooming Towards Recovery online meetings would continue. Technology has offered us a solution and a way to continue to carry the message of recovery in spite of these trying times.
With Zooming Towards Recovery, we are able to provide support to people all over the state, the U.S., and even the world, who might not otherwise have this resource. We have a core group that includes members from treatment centers, halfway houses, and reservations all over the country. Even though our meeting is open to everyone, it is about 90 percent Native Americans, and we are a spiritually focused group that has become a family. Through this group I have made new friendships and widened my recovery support circle beyond what I could have ever imagined. I have witnessed people in recovery grow right in front of my eyes. As long as I am able, and with the help of the other members, I will ensure that this meeting will continue to grow and be there to welcome all alcoholics and addicts with a desire to recover.
And with that I will take another 24.