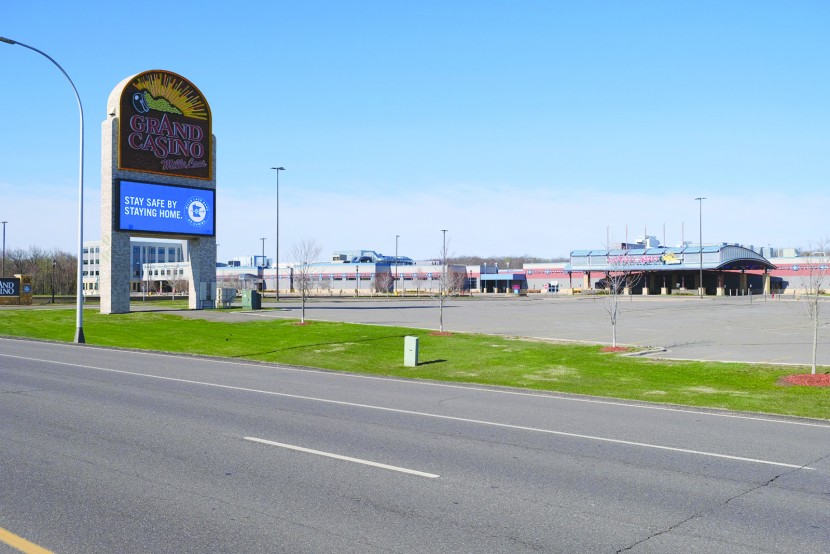 Grand Casino has been temporarily closed since March 16, and since then, casino management has developed a health, safety, and sanitation plan that spells out operational procedures at the casinos. Grand Casino released the plan to the public in advance of their reopening, which has not yet been scheduled.
The plan governs every aspect of how Grand Casino will operate to ensure that when the doors reopen, the properties are as safe as possible.
Grand Casino will deploy a multi-phase reopening strategy, during which casino Guests will notice several procedural and physical changes at Grand Casino.
"We looked at every human touchpoint at our properties to develop a 'phase one' plan for reopening our casinos while keeping our communities, associates, and guests safe," said Joe Nayquonabe, CEO of Mille Lacs Corporate Ventures, the parent company of Grand Casino. "Our commitment to executing this plan gives us the confidence to welcome Guests and Associates back to our properties."
A phased approach to reopening
Grand Casino is phasing its reopening based on the latest guidance from the CDC as well as the on-the-ground situation in the communities in which the properties are located. Here is what will be different when the casinos reopen:
• During phase one, most of the gaming floor will reopen with some changes to accommodate social distancing, such as limiting the seating at card tables and minor changes to layout. Bingo, poker, and pull tabs will not be open during phase one.
• Every Associate entering the casino will be provided a mask and required to wear that mask while on property. Guests will also be required to wear masks while at Grand Casinos.
• Both casinos will have some 24/7 food options available, such as Plums at Grand Casino Mille Lacs and Provisions To-Go at Grand Casino Hinckley. Other restaurants, like 1991 Kitchen, Grand Cup and Cone, Stories Diner, and Silver Sevens will be open with reduced hours.
• Dine-in restaurants, including the Grand Buffet, The Winds Steakhouse, Rival House, and The Grille House will remain closed until a future phase.
• In-room dining, banquet, and convention services also will remain closed.
• There will be no valet or shuttle services provided in phase one, and the bell desk, pool operations, fitness center, and Grand Arcade will remain closed.
• The casinos will be smoke-free upon reopening. Outdoor spaces for smoking will be provided in the interim, and indoor smoking lounges will be developed for the future.
"Our goal with a phased reopening is to be methodical as we reopen different amenities to ensure we can maintain a clean and safe environment and adjust operations as needed based on real-world feedback," said Nayquonabe.
New procedures for visiting Grand Casino
One of the biggest things we can do to protect everyone's safety is to not have people who feel ill come to the casinos. To help with this, Grand Casino has changed its entrance procedures. Grand Casino wants its Guests to be aware of some key changes before coming to the casino:
• All Guests must enter through designated Guest entrances. Casino Associates will use separate entrances for employees only.
• Grand Casino will be using non-invasive thermal cameras to scan the temperature of all arriving Guests. Associates will also have their temperature taken prior to the start of each shift. Anyone with a temperature over 100˚F will be given secondary screening. Nobody with a confirmed temperature of 100˚F or higher will be admitted.
• We are asking all Guests and Associates who know they are not feeling well to stay home.
Increased cleaning, disinfecting, and sanitizing
Another big area of change is with the enhanced cleaning, disinfecting, and sanitation of the two casinos.
• Grand Casino has implemented a heightened cleaning schedule in all public spaces with an emphasis on frequently contacted surfaces such as front desk/check-in counters, entrances, elevators, door handles, public restrooms, slot machines, table games, dining surfaces, and seating areas.
• Hand sanitizer dispensers are located at Guest entrances and in other high contact areas such as the hotel lobby, at elevator landings, near cashiers, at Grand Rewards, at restaurant entrances, in meeting and convention spaces, and at key areas on the casino floor.
• Sanitizing wipes are available on the casino floor for Guests who wish to do additional sanitizing of the machines and surfaces they are touching.
• In addition to the visible changes we already mentioned, Grand Casino has also implemented additional less visible policy changes, including increased guidance on hand washing frequency and social distancing of Associates — all aimed at keeping our communities, Associates, and Guests safe.