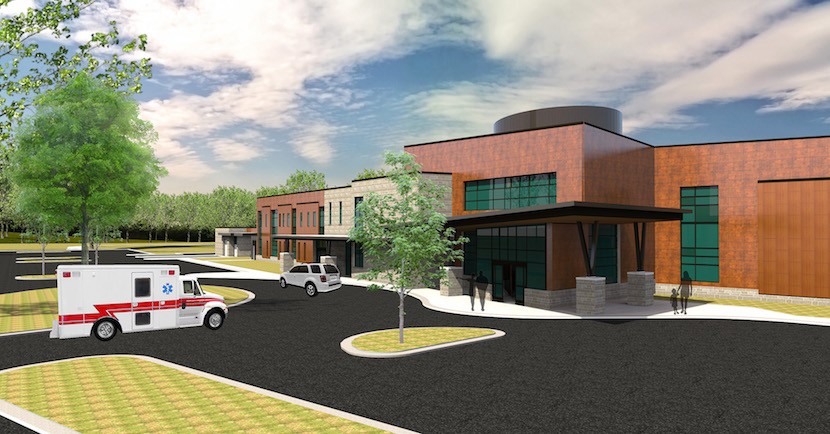 Construction is underway on an 85,000-square-foot Health and Human Services facility in District I. The building will be situated on the west side of Timber Trail Road across from the Bugg Hill neighborhood.
The footings and foundation were completed this fall, and structural steel started arriving in December.
Above-ground masonry work commenced in December, and the building structure will continue to go up over the winter months. Construction is expected to be complete in early spring of 2019. Hy-Tec Construction of Brainerd is the general contractor.
The Mille Lacs Band commissioned Seven Generations Architecture and Engineering to provide full design services for the clinic, which will also house Health and Human Services administration and all HHS departments: Health Services, Family Services, Public Health, Community Support Services, and Behavioral Health Services.
The facility will provide a "one-stop shop" for Band members to access medical care formerly housed in Ne-Ia-Shing Clinic: general practice health services, dental, pharmacy, imaging/radiology, lab, and physical therapy. The clinic has also been built to accommodate urgent care in the future if the need arises.
The building will be divided into two wings to separate clinic functions from other HHS services. The clinical wing will accommodate general health clinic functions on the first floor and specialty services (i.e., imaging, lab, and dental services) directly above on the second floor.
The wing opposite will accommodate all other HHS services and will include offices, collaborative work areas, conference rooms, a pharmacy on the first floor, and a physical therapy gym on the second floor.
The HHS building is being developed on a large parcel of land known as the Sher Property. A housing development has also been started on the parcel and a new District I Community Center is also being planned on the property.