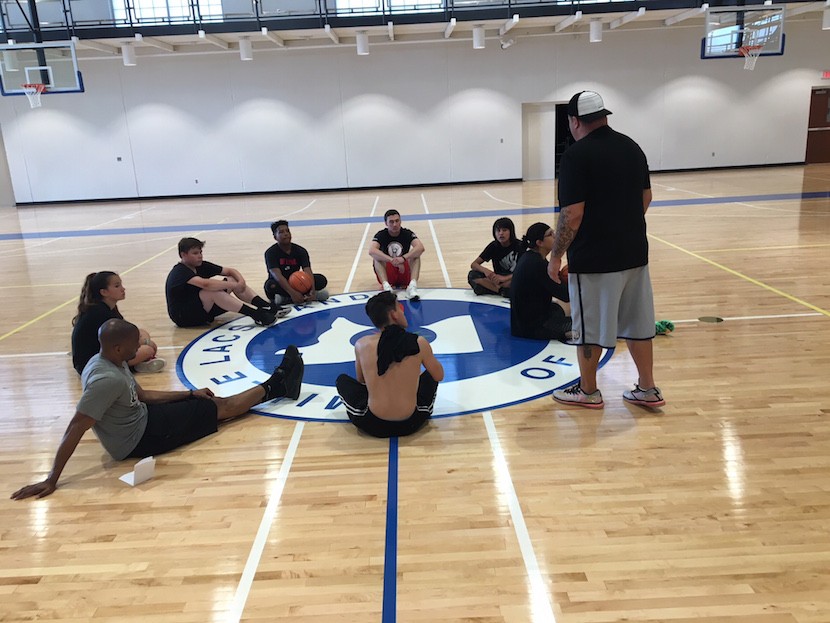 Youth Learn Basketball, Ojibwe at Meshakwad Community Center
By "Amikogaabawiikwe" Adrienne Benjamin
On Friday, June 15, the Ge-niigaanizijig program held a basketball camp at the brand new Meshakwad Community Center in Hinckley. This was no ordinary basketball camp, however, as its main focus was not basketball but Ojibwe language acquisition.
Sure, there were professional coaches to work on skills and drills, but there were also two Ojibwe language speakers/staff on hand to teach not only the players but also the coaches. Commands were given to the youth by coaches in Ojibwe, and the campers were expected to return their speech with prompts given ahead of time by the language instructors.
This was all part of a new approach taken by the Ge-niigaanizijig program to weave in fun and unique activities with the Ojibwe language to garner further interest and usage. Ge-niigaanizijig Project Director Byron Ninham said, "Adrienne and I had been talking about new ways to get kids interested in the language while having fun, and once we got our heads out of the classroom style and thinking outside of the box, this idea came to be."
Language instructors Bagwajinini (Alex Kmett) and Waabishkigaabaw (John P. Benjamin) worked very hard on the curriculum for this unique event, and were able to create a teaching tool that deserves recognition and praise. They compiled the word pieces for a lay-up, dribbling quickly, running, shooting, and almost any terms one could need during a basketball game.
The basketball coaches were also top-notch:
Paris Kyles is currently the Education Director of Step by Step Montessori School in Brooklyn Park. He was the National Junior College Player of the year while playing at Minneapolis Community and Technical College. He graduated from Minnesota State Mankato and played professionally for a number of years in Lithuania after college.
Justin McCloud is currently the Assistant Coach at the University of Mary in Bismarck, North Dakota. He is from the Turtle Mountain Ojibwe Tribe. He played his college career at Bismarck State and transferred to Illinois State (a Division 1 school).
Butch Sinette has been involved in Native basketball tournaments for nearly all of his life as a sponsor and player. He owns his own business, Iron Boy Security, and has been an active foster parent for over 15 years. He prides himself in raising up youth who are disadvantaged and proudly said that he has fostered 65 youth and graduated 15 of those.
This event was documented again by the Gigsy team (Oli Alexander and Chiron Wicker) from New Orleans, who will be providing the Ge-niigaanizijig program with photo/video content and social media short videos to celebrate and display these wonderful activities in the community in a fun and innovative way, and to instill a sense of pride into the youth. The final outcome of these events and partnership with Gigsy will result in a series of video documentaries and installations of photography flanked by Ojibwe language explanations of each photo in the gallery. These installations will be able to be seen in many of the Band's public buildings.