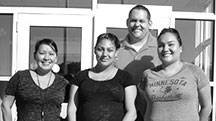 By Brett Larson, September 4, 2015
Minisinaakwaang Leadership Academy (MLA) in District II got a jump on other local schools, starting classes on Monday, August 10.
The first day of school went well, according to Josh Mailhot, the new director of the school. Kids especially enjoyed the outdoor classrooms, which are wigwams built by Ojibwe Language Apprentices Branden Sargent and Winona Crazy Thunder-Lemon, with help from Russ and Deb Northrup.
Josh, who replaced former director Todd Lee, was raised in Brainerd, attended college at Bemidji State, got his Master's online at the University of Phoenix, and has worked in North Carolina, Onamia and Nay Ah Shing schools.
Teaching for five years in North Carolina was a challenge. "Moving from a state and a city that's predominantly Caucasian to a state that is much more diverse was a good experience for me. I had three classes of 37 kids each. The first class was all special education with full inclusion, and my special-ed teacher was from the Philippines and didn't speak English. I learned a lot about diversity and overcoming obstacles."
His year and a half at Nay Ah Shing was a nice change, with smaller class sizes and supportive colleagues. He also enjoyed the language-learning aspect of the job.
Most recently Josh was in Onamia for two years as the school improvement grant administrator. "It was a great learning experience, but tough at times, trying to convince people they needed to change their teaching to improve the school. We succeeded, though. The school is out of school improvement."
Josh brings a goal-oriented philosophy to his job. He hopes to earn his Ph.D. someday and to be a superintendent, professor and/or college president.
He has also set his sights high for MLA, at the prompting of the board, which is composed of Raina Killspotted, Amber Buckanaga, Laura Shingobe and Timothy Bishop.
In the short term, the board wants Josh to increase enrollment and offer sports — basketball, track, and even fishing, which the Minnesota State High School League has recently recognized as a sport.
In the long term, the board would like MLA to become a Bureau of Indian Education school with a full-immersion program.
Also new on staff this year are Business Manager Naomi Northrup and Administrative Assistant Whitney Thompson.