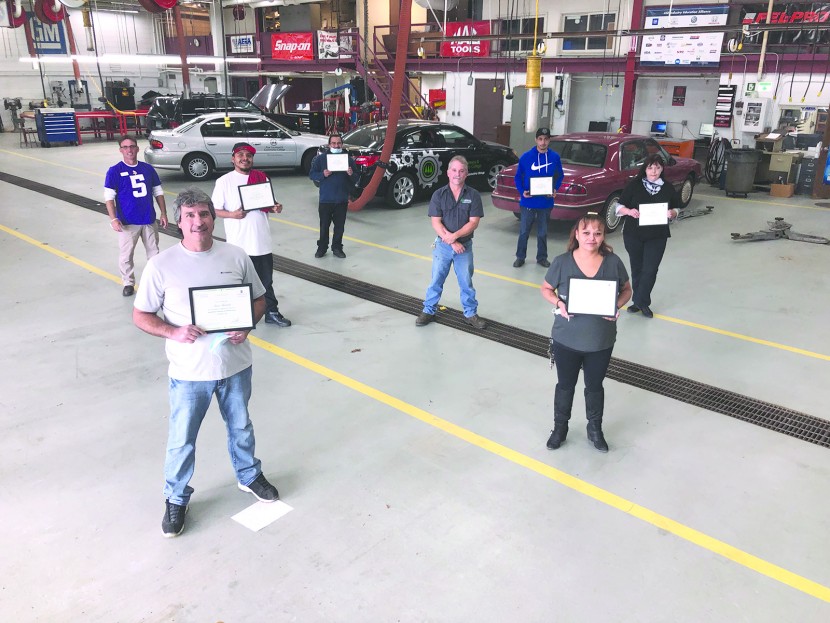 Pine Tech courses provide practical training for Band members
The camaraderie between students, support staff, and instructors was evident when eight Mille Lacs community members received certificates and toolboxes after completing an introductory course in auto mechanics.
Inside jokes and reminiscences ("Remember when the ceiling fell in?") filled the Pine Technical and Community College classroom on September 11 and traveled a hundred miles via Zoom to Aanjibimaadizing Director Tammy Wickstrom and Transporter Roger Klassen.
Karen Pagnac, Aanjibimaadizing's Training Coordinator, was instrumental in building the partnership between Pine Tech and Aanjibimaadizing.
"With each class, we try to have someone from our staff on hand to greet the students, serve meals, and help with whatever is needed," said Karen. "Roger helped a lot with hosting the Auto Tech class."
The students were joined in person at the ceremony by Karen and Aanjibimaadizing Lead Instructors Jen Gabrio and Donita Odden.
Pine Tech President Joe Mulford attended the ceremony to congratulate the students, along with instructor Brian Rosenberger and Customized Training Program Manager Kathy Reid, who worked on the partnership with Aanjibimaadizing.
Brian told the students they were one of the best classes he's had in 13 years of teaching.
James Frederick, a White Earth Band member who lives in District I, enjoyed working on his Silverado in the class and is planning to enroll in the two-year auto mechanics program in the spring.
Likewise for Owen Sargent, a Mille Lacs Band member from Onamia. He enjoyed the hands-on learning in the program and hopes to turn the class into a career.
Other graduates were Candace Hill, Carly Shedd, Keenan Weyaus, Morningstar Goodsky, Randy Hill, and Tim McGregor.
The partnership developed through a Pathways to Prosperity grant from the State of Minnesota. Pathways to Prosperity was developed by the Minnesota Department of Employment and Economic Development to make Minnesota more competitive by meeting the common skills needs of businesses and individuals.
Three other courses were offered this summer in partnership with Pine Tech — Commercial Driver's License training in District III, Certified Nursing Assistant Training in District II, and Career Exploration/Small Business Certification in District I.
Dawn Aubid and Josh Mitchell completed classroom training for their commercial driver's license, passed the permit tests, and are working on completing the behind the wheel portion of their training. They've both started employment in occupations where the training will benefit them.
Michale Lewis-Pagh completed the Career Exploration and Small Business Certificate course and is preparing to continue training to expand her business skills.
Rochelle Olivarez, Taria White, Alyssa Buckanaga (left to right, in photo below), and Opitchee Mushkooub (not pictured) all took the Certified Nursing Course, completed clinicals, and passed the CNA exams.