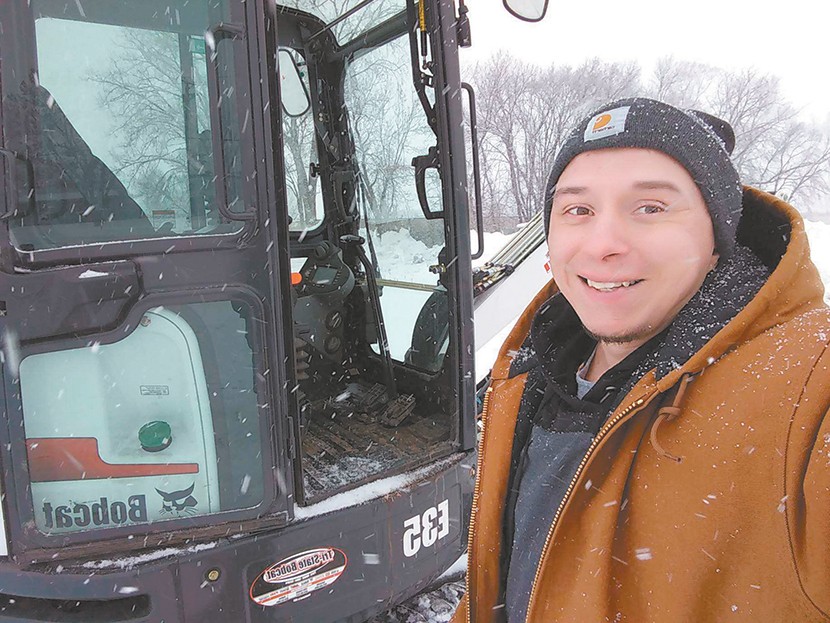 When Vince Beaulieu returned home last December after a three-year prison term, he knew he was ready to walk a better path. "In prison, I kept getting emails from my baby's mother," Vince recalled. "I was watching him grow up through emails."
He talked with a fellow inmate who had a commercial driver's license (CDL) and told stories about being on the road. That sounded interesting to Vince. "It all just fell on me, like it was meant to be," he said.
Knowing what he wanted didn't mean he knew how to get there, however.
Vince finished up a long-term treatment program and decided he needed to live somewhere with structure, so he moved into the Band's halfway house in District I. That's where he heard about AanjiBimaadizing.
"I was going to pay for CDL training out of my own pocket, but I came across this program that would set it up and pay for it," Vince said. "That was a real big help, because I didn't know where to start. I didn't take it for granted."
Formerly known as the Department of Labor, or DOL, AanjiBimaadizing helps Band members and other Native Americans in the service area to develop the skills they need to find gainful employment.
The name comes from "Aanji" — to change — and "Bimaadizing" — one's life. Together the word means "life-changing."
AanjiBimaadizing staff members help people come up with a plan, identify barriers, and work towards self-sufficiency.
The one thing they can't do is force anyone to take advantage of the support that's offered.
That's why Vince has become a kind of "poster boy" for AanjiBimaadizing, according to Training Coordinator Nick Sciacia.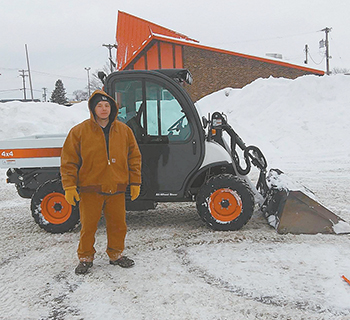 "People like Vince show that if you take the initiative, great things happen," said Nick. "He's a go-getter. Others might say 'Do that for me,' but Vince does it all on his own."
Employment and Training Director Michael Fahey agrees. "In the beginning, we stayed on him, but as he progressed and built up his confidence, we took a step back. Now he knows what he needs to do next, and if he needs help, he knows we're here for him."
Vince's parole officer is happy, too. "There's an appeal to this program with the parole officers," Vince said, "because you're bettering yourself, just like the DOC (Department of Corrections) is trying to do. It goes hand in hand."
From GED to CDL
In February, Vince completed a two-week certification in equipment operation, and in March, he jumped right into a two-week CDL training. During his free time, he works on his General Education Diploma (GED) in the AanjiBimaadizing classroom and studies for four tests he'll need to take for the CDL endorsements he plans to get.
AanjiBimaadizing provides incentives for accomplishing goals related to education or employment, and individuals who attend off-site trainings may receive help with things like transportation and living expenses.
"In the past, people looked at us as a handout — 'Go to DOL to get a check,'" said Michael. "But it's not about giving you stuff; it's about us collaborating with you when you're ready to make changes."
"What I got from the program was the guidance to get my life back on the right path, all the way from getting my driver's license, to going back to school, getting my CDL, and all the positive influences that come from me doing my best," said Vince.
Asked what his dream is — where he sees himself in a year — Vince hesitates before sharing. "Going down the road in an 18-wheeler, hopefully." With a shy smile, he adds, "Big Rig Vinny."
Vince highly recommends the AanjiBimaadizing program to others looking to make a change. "Come and get the guidance, and the rest is up to you," he said.
Nick added, "We'll point you in the right direction, but you gotta walk ."
Michael agreed. "That's what I envision our program doing: helping people out of a difficult situation. You may not have a resume or any experience, but if you go into an interview with some certifications and a GED, that can make a big difference."
Vince is living proof that assistance plus effort equals success. "After being in prison for so long, you see your kids start to grow up, and you get that drive for change inside you," he said.
That drive — along with guidance from AanjiBimaadizing — has put Vince in the driver's seat, and a rough road in the rearview mirror.
AANJIBIMAADIZING — CHANGING LIVES
AanjiBimaadizing (formerly known as the Department of Labor) provides a comprehensive system of employment assistance, counseling, training, and education to promote healthy life choices, appropriate work habits, and relevant skills for success in tribal or non-tribal, public or private work places.
These services require that clients work with staff to develop the skills to balance their life and finances. Although some services have income requirements, most Band members and their families qualify. Services are available in Aitkin, Benton, Crow Wing, Mille Lacs, Morrison, Pine, Hennepin, Anoka, and Ramsey counties.
Services include career training and development, Temporary Assistance to Needy Families (TANF) cash assistance, emergency assistance, food support, medical assistance, childcare assistance, adult support services, and the Mille Lacs Band's Elder Needs-Based Supplemental Income Program.
The AanjiBimaadizing Youth Program includes regularly scheduled meetings and activities designed to inspire and motivate our youth to embrace a traditions-based, pro-social lifestyle free of chemicals, anti-social or risky behavior, promiscuity, and dependency. These activities are offered to all eligible reservation service area youth ages 12 through 20. There are no income eligibility limits for this component of the youth program.
AanjiBimaadizing is part of the Department of Administration and is overseen by the Commissioner and Assistant Commissioner of Administration. The Assistant Commissioner is Baabiitaw Boyd, and the interim Executive Director is Tammy Wickstrom. Please stop by to see how we can help you today. LET'S CHANGE LIVES!