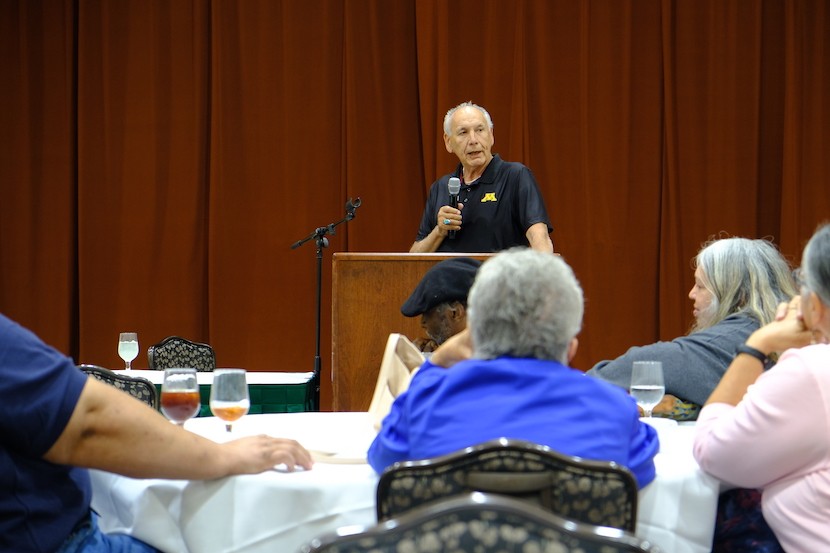 At the August 14 community meeting at Grand Casino Hinckley, District III Band members heard from Rep. Wally St. John, Secretary-Treasurer Sheldon Boyd, Community Support Services Director Kristian Theisz, and Pine County Cultural Community Coach Bill Schaaf.
Wally pointed out that it had been just over a year since he took office, and he reiterated the theme he has spoken about throughout his term: the importance of unconditional love for fellow community members.
Sheldon reviewed the progress that has been made on his top three priorities: transparency, establishment of a Revisor's Office, and improved oversight of the Band's investments.
Although live-streaming of Band Assembly meetings has not yet occurred due to concerns of District Representatives, Sheldon said Wally will introduce a data practices bill to ensure that government records are available to Band members.
Regarding the Revisor's Office, Sheldon said an attorney has been hired who will begin the process of updating Mille Lacs Band statutes.
In an attempt to improve oversight of the Band's investments, Sheldon said Band Assembly has prepared a Request for Proposals for an audit of the Band's finances, and he hopes to establish an Investment Board of Band members who will oversee the Band's investments.
Kristian reviewed the programs that are part of Community Support Services, including food shelves, violence prevention, Elder services, and Wraparound.
Bill spoke about his desire to provide healthy activities for District III youth, including athletic programs. He asked parents and guardians to contact him to share ideas.
Above: Bill Schaaf spoke about his role as Cultural Community Coach.
Below: Kristian Theisz gave updates on Community Support Services.