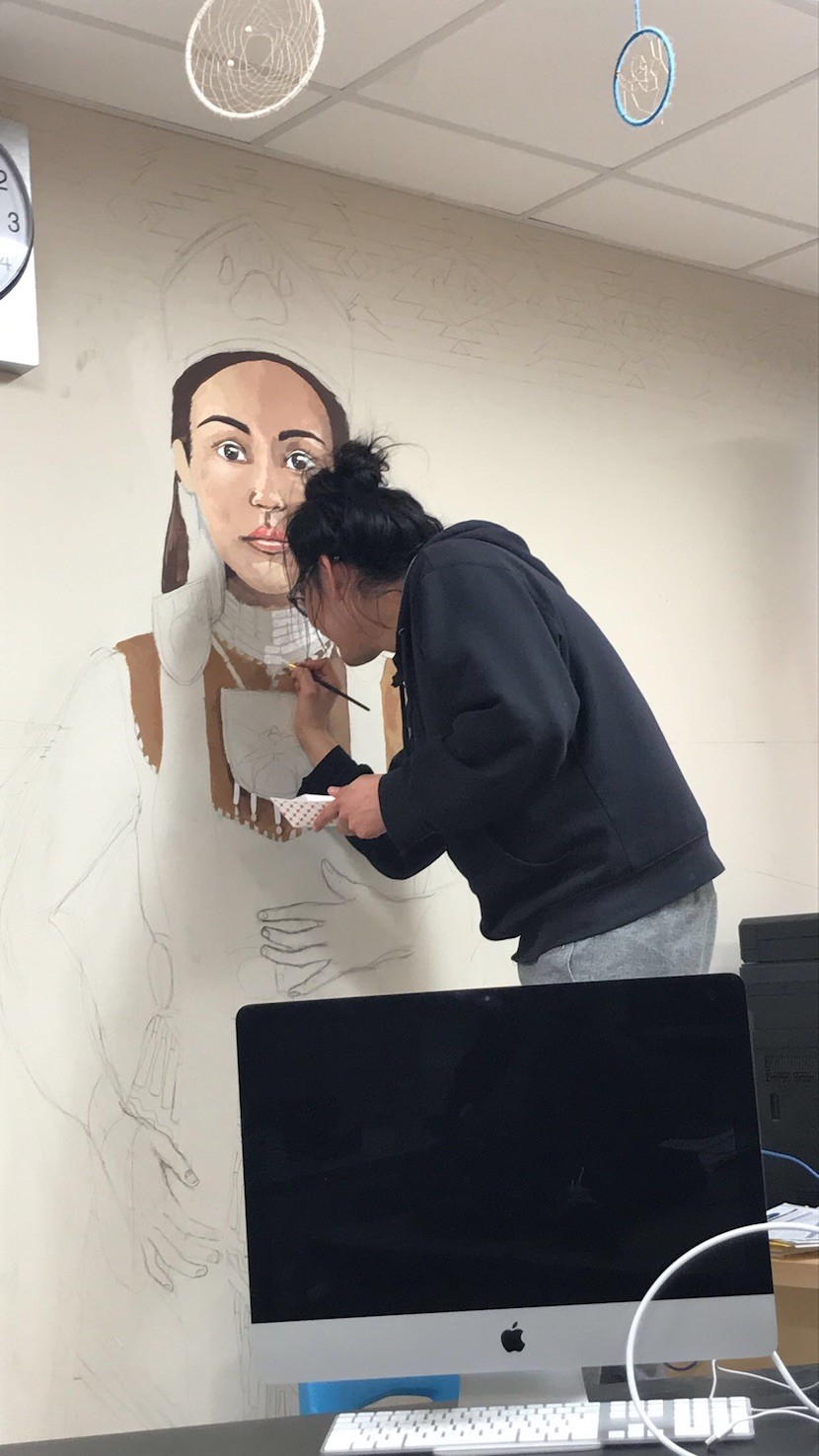 Story by Amikogaabawiikwe (Adrienne Benjamin) Mille Lacs Band Member
The Onamia Indian Education Department has taken on an initiative to celebrate traditional culture in the school. In an effort to create an overwhelming sense of cultural pride in students, Indian Education Director Chris Nayquonabe is taking a unique approach.
A full wall mural has been started in the Indian Education Room at Onamia High School. The wall will feature likenesses of current Onamia students in regalia, sports uniforms, and scholarly attire. It was started in early 2017 with a projected finish date of June 2019. The room is currently the main hub of the Indian Education staff in the high school, and a place students frequent every single day, many times a day.
"When I first came to Onamia I was shocked when I found out how many Native students attend Onamia Public School," said Chris. "Native students make up 56 percent of the total student population, and part of my job is ensuring that the Native students can see themselves reflected in the school in all ways. The Indian Education Department wanted to give the youth a colorful place to learn that is reflective of things that are important to them as Anishinaabe people, and we know that culture is." Chris said.
The featured artist of the mural is Sonny Clitso. Sonny is originally from Kayenta, Arizona, and grew up on the Navajo Reservation. He is currently an early education lead teacher at Wewinabi Early Education and makes a point to use art every day with his students. Sonny wants the mural to be reflective of the kids that would enjoy the art for years to come, so he and Chris made the decision to create the faces in likeness of students.
Sonny reflected, "My most vivid memories from childhood are full of my copper-skinned cousins running around in the hot Arizona sun, riding horses, and my grandparents/parents speaking Navajo. Navajo teachings filled my day even at school because my teachers were also Navajo. I was fortunate enough to experience a childhood where my Indigenous roots were celebrated all around me. By painting this mural I hope to give the children at Onamia a sense of Indigenous community and kinship."
Onamia students have expressed their own excitement about the mural project as well. After scheduling conflicts stalled recent progress on the mural, the student representative members brought up their eagerness for the project to be completed at a recent LIEPC meeting and reminded the adults that they really want to see the mural finished before they graduate. "I knew at that point, that we needed to get moving on it, and that it was something that the kids really were looking forward to more than I had originally thought," Chris shared. "I knew we were doing something that mattered to them."
The 300-plus Native American students at Onamia will soon be reflected in a positive light. "When students look around the school, there isn't much that reflects who they are as Anishinaabe youth," Chris concluded. "This mural is an opportunity to see traditional regalia celebrated though art and something that they can look up to and feel proud about."
Look for a follow up story and photos when the mural is completed in June 2019!
Sonny Clitso is in the process of painting a mural in the Indian Education room at Onamia High School. Photo by Chris Nayquonabe.