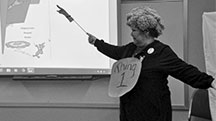 By Brett Larson, April 10, 2015
Nay Ah Shing Abinoojiyag has been celebrating Dr. Seuss' birthday for many years, but 2015 had a special surprise: two Dr. Seuss stories translated into Ojibwe and read aloud by Ojibwemowin instructor Bonita Nayquonabe and Ojibwe language and culture coordinator Jodell Meyer.
Jodell said she took on the challenge of translating her favorite Dr. Seuss book, Hand, Hand, Finger, Thumb, in order to get students excited about reading and learning Ojibwe. She was assisted in the reading by students Louis Whiteman-Cram, Talia Nadeau, and Deshania Jackson.
Bonita translated Marvin K. Mooney, Will You Please Go Now! and performed dressed as "Thing 1" from Dr. Seuss' Cat in the Hat books.
Students were also treated to readings from Chief Executive Melanie Benjamin, Secretary/Treasurer Carolyn Beaulieu, and Commissioners Suzanne Wise, Joe Nayquonabe, and Percy Benjamin. Every year they invite the President and Vice President. The students got a very nice letter from Vice President Biden. In the past they have had state senators and representatives as readers, and a representative from U.S. Rep. Rick Nolan.
In addition to the readings, the afternoon of March 2 was devoted to the birthday party, "Seussian" games in the gym, and an art project involving coloring of paper socks. A favorite with the kids was making "oobleck," a green goo featured in one of Dr. Seuss' books. The food station, where they made red-and-white Jello and whipped cream desserts, was also a hit.
Roger Nieboer, who coordinated the event, said the translations were a highlight, "We've been trying to do it for about three years. To translate anything is tough, but to translate something like Dr. Seuss is a big undertaking. Jodell was the first to bite on that.
"What's cool about it for me is to see kids hearing Ojibwe language used in a contemporary context," Roger added. "They have a sense of ownership."
Bonita, who has been teaching at Nay Ah Shing for more than 15 years, said "Marvin K. Mooney" was a good fit with Ojibwe. The kids were mesmerized by her performance. "I absolutely enjoyed myself," she said.
Next year she plans to translate another favorite book. "I'm also hoping that next year I'll get my second or third grade to do Marvin K. Mooney and act it out."
Bonita Nayquonabe
Ojibwemowin instructor Bonita Nayquonabe dressed as "Thing 1″ from Dr. Seuss' Cat in the Hat books.
Dr. Seuss translated
A translated page.
Jodell Meyer
Ojibwe language and culture coordinator Jodell Meyer reading "Hand, Hand, Finger, Thumb."