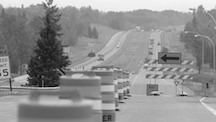 By Mille Lacs Band of Ojibwe, September 12, 2015
Closures needed as crews prepare for 2016 reconstruction
BAXTER, Minn. – Motorists may encounter lane closures, reduced speed limits and possible delays when segments of Highway 169 just north of Milaca are reduced to a single lane beginning Tuesday, Sept. 1.
The lane closures and speed limit reductions through the work zones will occur from 6 a.m. Mondays through 6 p.m. Saturdays. No lane closures will occur on northbound Highway 169 from 12 p.m. to 9 p.m. Fridays, nor on southbound Highway 169 from 12 p.m. to 8 p.m. Sundays. The closures will be complete by November.
Motorists approaching the Highway 169 work zones should slow down, be prepared to stop if necessary, obey the reduced speed limits through the work zones, and watch for flaggers, crews and heavy equipment.
The closures are needed while crews construct temporary crossovers and turn lanes to carry traffic while seven miles of northbound Highway 169 between Milaca and Onamia are reconstructed in 2016. Beginning in spring 2016, Highway 169 will be reduced to a single lane in each direction, with all traffic switched to the southbound side of the road while crews reconstruct the northbound roadway.
When complete in late-Aug. 2016, the project will result in a smoother ride, improve safety with wider driving lanes, wider shoulders and longer turn lanes, improve drainage and make other improvements while lanes are closed for construction.
To learn more about MnDOT and transportation funding, visit Get Connected at www.mndot.gov/getconnected.
For more information on MnDOT in Central Minnesota, visit www.mndot.gov/d3 or follow on Twitter @MnDOTCentral.
For real-time travel information anywhere in Minnesota, visit www.511mn.org.