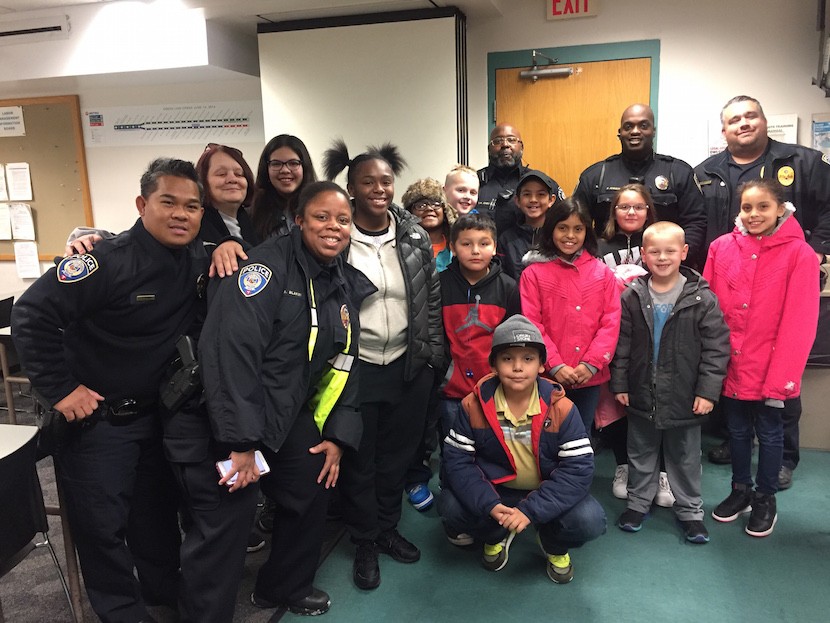 A Mille Lacs Band member and a Band descendant were among the kids lucky enough to "Shop with a Cop" December 11 as part of an annual Metro Transit Police Department (MTPD) program.
Heidi Stenquist, 11, and Aureliano Costillo, 9, shopped at Target with Metro Transit Officers as part of the department's Community Outreach Program, which provided $100 gift cards for each child to purchase Christmas presents for immediate family members and treats for themselves.
Before shopping, the youth ate dinner with officers at the police department and toured the MTPD facility. The youth had a great experience hanging out with officers and meeting K9 Jack.
Heidi's mom, Tanya Stenquist, said her daughter had a lot of fun and that everyone was very nice. "She was really happy that they said she could buy gifts for her family and dog," said Tanya.
Aureliano said he enjoyed shopping at Target and picking out toys for his sister and a Lego game and Pac-Man for himself. He also liked touring the Metro Transit Police building and visiting Chief Harrington's office — as well as the cheese and pepperoni pizza! Aureliano's mom, Leslie Shabaiash, said it was a great experience to meet the people who protect the community.
Metro Transit Police Chief John Harrington and a former colleague created "Shop with a Cop" in 2000, when Harrington was a commander with the St. Paul Police Department.
Metro Transit Officers who participated in the event were Officer Blakey, Officer Eam, Community Outreach Carol LaFleur, Officer Jones, Officer Johnson, Sergeant Hutchinson, and Officer Kruyer (not pictured). Heidi is pictured standing in front of Officer Johnson, and Aureliano is in the very front.
PHOTO BY OFFICER A. KRUYER