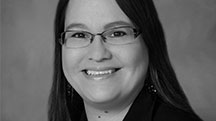 By Brett Larson, June 5, 2015
The Mille Lacs Band hosted a conference May 18 and 19 to help state employees better understand and serve Minnesota's American Indian population.
The Government-to-Government Tribal-State Relations Training at Grand Casino gave attendees abroad and deep introduction to American Indian history, culture, law and politics, according to Mille Lacs Band consultant and UMD professor Tadd Johnson.
Tadd said the conference — one of several held around the state in recent years — is the result of a 2013 Executive Order from Gov. Mark Dayton requiring state agencies to implement tribal consultation policies and provide training for staff who work with American Indians.
The training was developed by Tadd and former Mille Lacs Band employees Linda Aitken and Ed Minnema. To date they have trained over 800 state employees and many tribal employees and officials. Tadd said, "We've received really good feedback. There's kind of a dearth of knowledge of federal, state and tribal laws."
Ed, a former Nay Ah Shing teacher who now teaches in the Department of American Indian Studies at the University of Minnesota-Duluth, facilitated the event, and Tadd and Linda were among the presenters.
After presentation of the colors and a flag song by Swamp Nation Drum Group, Secretary/Treasurer Carolyn Beaulieu welcomed those in attendance and Ed gave an introduction and overview of the conference.
The first day was devoted to a presentation by Tadd titled "Federal Indian Policy and the Legal Background between the Tribes and States." "What I provide is a legal history of federal Indian policy — how tribal, state and federal government policy came to be," Tadd said.
Also participating were Joe Nayquonabe Sr.; Melanie Franks and Jim Jones of the Minnesota Indian Affairs Council; and three employees of the Minnesota Department of Transportation: David Tomporowski, Edward Fairbanks and Linda Aitken.
The second day opened with Dakota Reflections from Janice Bad Moccasin, Assistant Tribal Administrator for the Shakopee Mdewakanton Sioux Community, followed by four breakout sessions: Q&A: Answers to Your Historic and Cultural Questions; Tribal Liaison Panel Discussion: Interacting with the Tribes — Meaningful and Timely Consultation; Cooperation and Coordination: State Agencies Working with Tribal Counterparts; and Q&A: Tribal Attorney Panel.
The afternoon session was a Tribal Leader Panel Presentation: Consulting and Building Partnerships with American Indians. The panel was composed of Mille Lacs Band Secretary/Treasurer Carolyn Beaulieu, District I Rep. Sandra Blake, District II Rep. David 'Niib' Aubid and Leech Lake Band District III Rep. LeRoy Fairbanks.
Tadd said state employees had many good questions and enjoyed the opportunity to interact with tribal members, employees and officials.