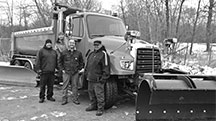 By Brett Larson, January 1, 2015
Mille Lacs reservation residents may see some new vehicles cruising the area roads this winter. The trucks will be hard to miss because they're bright orange – and very big.
The Community Development department has invested in two new snowplows – a Freightliner for District I and a Mack for District III. The District I truck will also be used in District II to widen the roads after a snowfall.
Roads supervisor Tony Pike said the new trucks are equipped with features to help his crews keep roads safe throughout the year. The salt chute in back can be reversed in the summer to add gravel to shoulders, and they have belly blades for grading.
In the winter, the on-board computers keep track of how much salt and sand are being used. That can help Tony save money on salt – which is at a premium this year. The trucks are also big enough that Tony's drivers will be able to pick up salt themselves, saving on delivery costs.
District I drivers Roger and Roy Garbow and Dan Thomas will stay comfortable in the cab of the new Freightliner, which is important on long days of maintenance, which can stretch from 6 a.m. to 10 p.m. during and after a snowfall — holidays included. "When the government center gets a snow day, that's usually our day to work," Tony joked.
Most importantly, the new trucks will help Tony and his crews keep roads free of snow and ice. "That's our main goal," Tony said. "To keep everybody safe and prevent accidents."
To help them accomplish their goal, Tony and the drivers remind residents to keep a safe distance from plow trucks.
The new trucks will be used primarily on Mille Lacs Band roads and parking lots, providing services similar to what county highway departments provide on county roads. If area residents have problems with snow removal or safety on county roads or state highways, they should contact their county or state transportation or public safety departments.