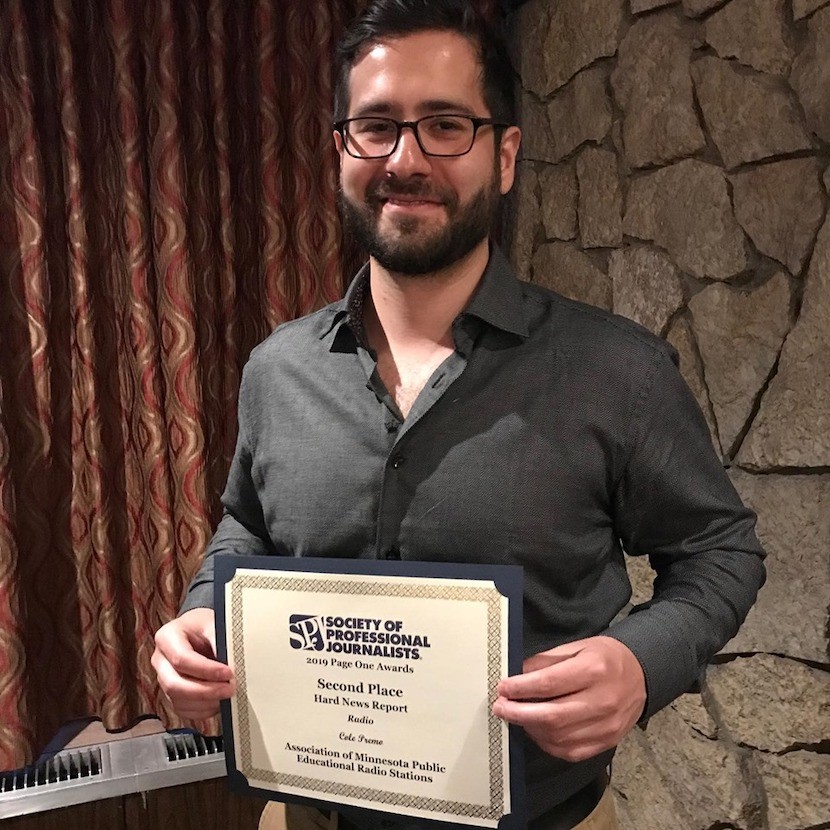 By Toya Stewart Downey Mille Lacs Band Member
Mille Lacs Band member Cole Premo is one of the few Native American journalists who work for one of the daily news organizations in the Twin Cities.
It is a professional achievement that is especially notable considering that Cole has been in his post for more than a decade — even as the number of Native journalists working in the mainstream media has declined during that same time frame.
Cole, 32, got his start as a journalist when he participated in the Emma L. Bowen mentorship program, which was designed to introduce media careers to students who come from diverse backgrounds. He landed a spot at WCCO-TV in the summer of 2005 and participated in the program for four summers while enrolled at the University of Minnesota-Twin Cities. During that time, while majoring in English literature and new media studies, he learned how the news business works, and then landed a job at the station.
Now, more than 10 years later, Cole says, "I've written stories about everything, and I've witnessed the evolution of social media."
In his role as a web producer, Cole writes breaking news stories, edits scripts for reporters, edits and cuts videos, and engages social media audiences.
Cole is also dedicating his time and talent to Indian Country with his freelance work for Minnesota Native News and a new podcast he hosts with his sister, Leah Lemm, "Native Lights: Where Indigenous Voices Shine."
Cole says the work he has done for the past year with Minnesota Native News keeps him accountable and allows him to engage with the Native community.
"I've done stories on the homeless encampment, missing and murdered Indigenous women, and other five-minute stories for the site."
Cole's work and contribution to telling the stories of Native people hasn't gone unnoticed. He recently took second place for Minnesota Native News for his story, "Minnesota Historical Society Works With Tribes on Historic Sacred Site."
At the 2019 Midwest Journalism Conference, Cole served on the panel "Covering Indian Country: How is Indian Country being covered in mainstream media in 2019?"
The early years
Cole was born in Minneapolis — where he still lives today — but was raised in Anoka. He graduated from Anoka High School, where he was active in the district's Indian Education program. It was there he learned about the Emma Bowen Foundation and began to explore a career in journalism.
While he wasn't certain that becoming a news guy was the path for him, he was always into writing poetry and creative writing. That led to songwriting and allowed Cole to indulge his passion for music.
He started playing guitar when he was 10. He played the blues — an interesting choice for a kid — and classic rock. He loved Jimi Hendrix and Stevie Ray Vaughan. He took lessons and he taught himself both electric and acoustic guitar.
He got pretty good and as a teen played in local bars with his music teacher. He continued to play with original bands while in high school and throughout college.
He honed his singing skills in middle school and high school and was talented enough to land a spot in the all-state choir.
Cole still plays in bars and other venues in both his own band and cover bands. He plays the lead guitar and sings for his own music, as well as joins in on other Twin Cities groups, like "The Teddy Holidays" and "Sexy Delicious."
In 2013, Cole finished his first album, which included a full band and has a distinct soul/R&B vibe. His second album was recorded with a friend and has a more electronic flavor. Up next is his work recording a single that will turn into a full-length album.
Cole loves when his two worlds — journalism and music — come together. Such is the case now as he's working on a Bob Dylan documentary with work friends at WCCO.
Lessons learned
Like other Band members who live away from the Reservation, Cole had to learn how to navigate in two different worlds. In Anoka he was one of the few Native students and when he was on the "rez" he was considered a "white boy" by some.
"You have to learn how to find your voice and use it in some way," he said. "Find a way to contribute to your community and your family. We all have to be aware of our own resources and find a way to use them."
Photo: Cole Premo recently won 2nd place in the hard news category (radio) at the Minnesota Society of Professional Journalists' 2019 Page One Awards.