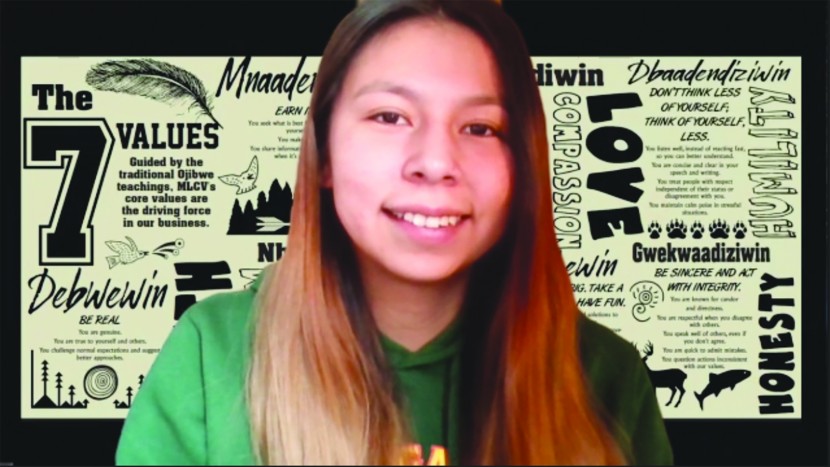 Like many of us, Sherraine White was glad to put 2020 in the rearview mirror. But unlike many, the challenges she faced were far more serious than wearing a mask or staying home.
In addition, those challenges came on the heels of four difficult years. In 2016, Sherraine lost her cousin to a hit-and-run accident. A year later, she lost her grandpa on her mom's side, and two months later her grandma passed away.
"Through all of this, I never gave myself a chance to grieve," said Sherraine. "I had to be strong for my mom and siblings."
She suffered from depression and mental illness as she was trying to finish high school, but she stayed on a good path and made it to graduation in 2017.
Then came 2020, when she lost another cousin she was close to. In November, Sherraine faced perhaps her greatest challenge when her mother, Jaylene, passed away. Jaylene was a single mom, so Sherraine, the oldest of six, would need to hold her family together — while starting a new job with a high level of responsibility at Mille Lacs Corporate Ventures.
"I'm proud of myself for being here now, still doing what I'm doing after losing my mom, and not falling back into those negative thoughts," she said.
Sherraine is soft-spoken but clear and direct. And she smiles a lot. She exudes confidence, but not cockiness. She's strong, but not calloused.
"I always knew I was different," said Sherraine. "Growing up, I didn't have anyone I wanted to be like, but I realized at a young age who I didn't want to be like." She avoided the drama of teenage friendships and learned to enjoy her own company. "I wanted to do great things," she said.
Sherraine was involved in the Band's youth programs her entire childhood. "CYS, Boys and Girls Club, Niigaan, WiiDoo — I was there for all the name changes," she joked. Those activities helped Sherraine avoid some of the pitfalls faced by some of her peers. "I've been around that stuff and even from a young age, seeing people drink, I'd think 'Why would you want to be like that?' I've always known right from wrong."
After graduating from high school in 2017, it was a smooth transition to take a job with the youth program. But when COVID-19 hit and she was furloughed, it seemed a good time to try something new. "My mom encouraged me to get my feet wet in different waters," Sherraine said.
In August, she was offered an internship at MLCV working for the Chief of People and Culture. "I always knew I wanted to work in a corporate environment, but I didn't know where to start, so I was grateful the internship came up," she said. "I fell in love with the corporate side."
The feeling was mutual: In November, she received a call to apply for her current job as Executive Administrative Assistant to Commissioner of Corporate Affairs Joe Nayquonabe Jr. She started on her 22nd birthday, December 14, 2020.
In her new role, she serves as office manager, maintains Joe's calendar, and assists Joe's other direct reports with their needs, from scheduling meetings to taking notes. She also helps Band members who need hotel reservations at the Band's properties. "I'm available for anybody and everybody who might need to get in touch with Joe or who needs something from Mille Lacs Corporate Ventures," said Sherraine.
For now, Sherraine does most of her work remotely, but she's eager to experience office life at MLCV. "I'm introverted, so I like to be home, but MLCV is like a big family, so it's really comfortable," Sherraine said. "The overall environment isn't what I expected. I thought it would be a serious, stern environment, but everybody's fun, in their element, always cracking jokes, and that's helping me be more talkative and vocal with other people."
She loves learning about economic development, how projects move from plan to completion, and how the "big dogs" at MLCV have built their careers.
The next step for Sherraine is applying for custody of her siblings, and now that she's older, Sherraine has found inspirational figures to emulate. "One is my Auntie Darcie Big Bear — the drive she has for bettering her life and reaching her goals. Another is Wendy Merrill. She shows me I can reach my dreams — even while raising a family."