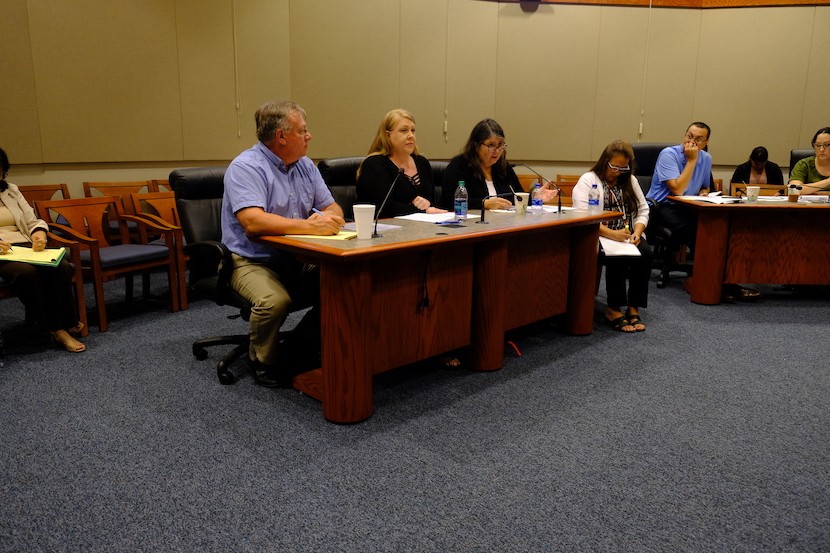 August 1: Band Assembly and Chief Executive Melanie Benjamin held a compromise hearing after the Chief Executive vetoed proposed changes to Title 1 and Title 5. A new version of the proposed amendments will be presented to Band members in the near future. Band Assembly approved a Joint Resolution Approving a Donation from the Mille Lacs Band of Ojibwe Foundation to the Indian Legal Assistance Program in Duluth.
August 8: Band Assembly approved a contract with Rosetta Stone to develop Ojibwe language learning tools and approved a law enforcement joint powers agreement with the State of Minnesota.
August 13: Band Assembly heard an update on the lawsuit against Mille Lacs County from attorney Marc Slonim.
Minnesota Commissioner of Commerce Steve Kelley, who attended the meeting with Tribal Liaison Mary Otto, spoke about the Commerce Department's ongoing desire to consult with the Band about issues affecting Minnesota's Indian tribes.
Gilda Burr and Judge David Christensen of the Mille Lacs Tribal Court introduced Diane Hammonds and Katie Proctor, who reported on tribal court assessment conducted by the Tribal Justice Support Program of the Bureau of Indian Affairs' Office of Justice Services. Diane and Katie complimented the Tribal Court for always looking for ways to improve services to Band members. Their report recommended security improvements, training, and additions to staff. Funding to meet some of the needs is available through the Office of Justice Services.
Band Assembly meetings are open to all Band members. Your representatives encourage you to attend! Tentative September calendar:
September 3: Chiminising Community Center
September 5: Minisinaakwaang (East Lake) ALU
September 10: Aazhoomog Community Center
September 12: Special TEC Meeting, Vermilion, MN
September 17: Biidaabinookwe Government Center
September 19: Biidaabinookwe Government Center
September 24: Meshakwad Community Center
September 26: All Nations Church, Minneapolis
Above: David Christensen, Amy Proctor, Diane Hammons, and Gilda Burr
Below: Mary Otto and Steve Kelley