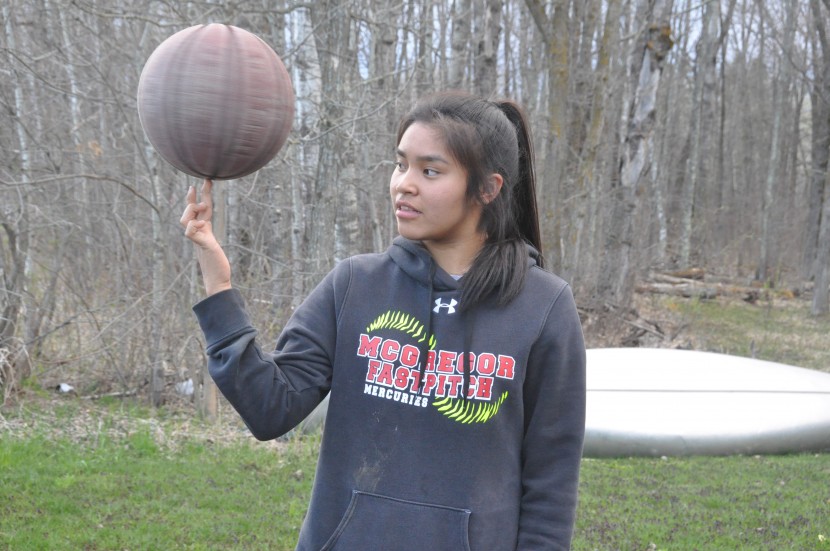 Brett Larson Staff Writer
Shinaana Secody, daughter of Mille Lacs Band employee Vanes- sa Benjamin and stepdaughter of Band member Tom Benjamin, will be taking her talents to Toronto this summer as a member of the Minnesota Indigenous Games basketball team.
The games take place July 16–23. Mille Lacs Band member Reuben Gibbs will also be playing in the tournament. (For a story on Reuben, see next month's Inaajimowin.)
Shinaana, who will be a junior at McGregor High School, has been playing ball for fun since she was a fifth-grader in Wisconsin, but started taking it more seriously in eighth grade.
Her 20-year-old brother Archie got her interested in the game. "He's my motivation. I ask myself 'What would Archie want me to do?'" said Shinaana. "I remember seeing him play a lot, and he started to make me play. Everybody started telling me all these good things, so I kept playing."
She admits that her freshman year was tough. "I would get down on myself if I made a mistake," she recalled. "Somebody told me the team needs me, and when I got down on myself it didn't help."
This past year she felt closer to her teammates and things improved. She also became more comfortable playing point guard as well as wing. Her highlight was scoring 20 points two games in a row.
She's a little nervous about playing with some talented Red Lake girls who will be on her team — but she won't be intimidated. "My brother used to make me play with grown-up guys, and I still do at the center. If I can play with them, I can play with those girls."
Shinaana's mom, Vanessa, is supportive — sometimes a little too much so. "She comes to all the games, brings signs and yells a little too loud," Shinaana joked. Vanessa said she's always surprised by how subdued the other parents are and likes to try to get them going.
"Both my kids, with any kind of sport, are naturally athletic," she said. "I told them you can do whatever you want. She wants to be in the WNBA, so I tell her 'Play your hardest because you never know who's watching.'"
Although most of her friends are Lynx fans, Shinaana's favorite player is Candace Parker of the L.A. Sparks.
The WNBA is a lofty goal, but Shinaana has demonstrated the work ethic it takes to be successful.
Vanessa lets her know it's her responsibility to put in the effort. "I told her 'You're not a little kid anymore. You know what you need to do. I'm not gonna treat you like a baby. If you don't get good grades you can't be on the basketball team.' And she does, she gets good grades."
"Last year I had to sit out 2 or 3 games," Shinaana said. "I told myself I wasn't gonna let that happen again."
This spring she played softball, and this summer she's staying in shape by playing summer ball and working out with her coach and teammates, or playing with the guys at the Community Center. In the fall she'll be playing volleyball to stay active.
"I'm gonna force myself to do things that make me better," she said. "Champions are willing to do what they hate to get what they love."