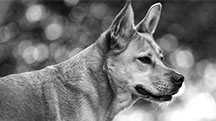 By Mille Lacs Band of Ojibwe, September 9, 2015
Veterinarians are coming to District I on Nov. 14 and 15 to spay, neuter, vaccinate and register dogs and cats free of charge, thanks to efforts by the Public Safety Department and the Student Initiative for Reservation Veterinary Services (SIRVS).
On Saturday, Nov. 14, veterinarians will spay and neuter up to 18 dogs and cats. These will be pre-scheduled appointments only. All of these animals will also receive full physical examinations and vaccinations, and the dogs will be tested for heartworm disease if they are over six months of age.
Owners with female pets will need to arrive at 8 a.m. for check in, and owners with male pets at 8:45 a.m. Pet owners will be called when their animals are done with surgery. They usually go home anywhere from mid-afternoon into the evening.
On Sunday, Nov. 15, SIRVS staff will give physical examinations, vaccines, de-worming and heartworm tests from 8 a.m. until 1 p.m. on a first come, first served basis.
The Public Safety Department and SIRVS are planning to host clinics in Districts II and III in the future.
Those who are interested in having their dog or cat spayed or neutered should sign up with District I Community Center Administrator Megan Ballinger.
About SIRVS
Founded in 2009 by U of M College of Veterinary Medicine students, SIRVS has a mission to train future veterinarians by serving communities in need.
SIRVS is a non-profit student group from the University of Minnesota College of Veterinary Medicine. The group provides free veterinary wellness and surgical services to rural communities in Minnesota.
The group's first trip was in August 2009, when they provided vaccinations, de-wormings and essential health care to about 75 animals on the Leech Lake Reservation. Their second trip in November 2009 added spay/neuter services, and they helped almost 300 animals on the White Earth Reservation. Since then, they have expanded to host about five different clinics each year, alternating the communities they visit.
Currently, the group works with the White Earth, Lower Sioux and Leech Lake Communities. This will be their first clinic in the Mille Lacs Community. By providing these clinics each year, they are able to help numerous animals and help to educate owners about better care practices for their animals.