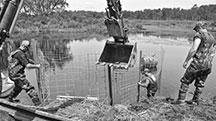 By Brett Larson, July 10, 2015
As part of an effort to restore Namachers Lake east of Hinckley, the Mille Lacs Band DNR on Wednesday, June 10, installed a "beaver deceiver" to prevent beavers from clogging a culvert near an inlet to the lake.
The deceiver, a type of flow device, is a trapezoidal metal cage designed to keep the beavers away from the culvert that passes under Davis Lake Road. Beavers have clogged the culvert, causing water damage to the road.
According to aquatic biologist Chad Weiss, the sound of the water rushing through the culvert may stimulate the beavers' instinct to build. The flow device allows them to begin building near the side of the culvert, but leads them away from the culvert and the stimulating sound of rushing water.
The device was developed in the 1990s by Skip Lisle while he was working for the Penobscot Indian Nation in Maine.
The Band hopes to raise the level of Namachers Lake and increase oxygen levels in the water to benefit walleye and panfish populations.