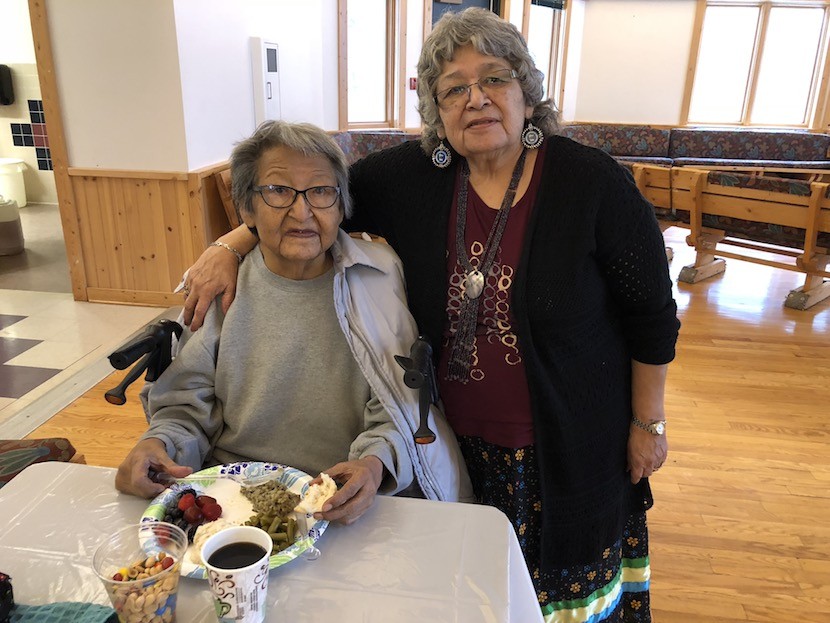 Babies, moms, dads, and even bystanders felt the love December 13 at the Celebrating Baby event at the District II ceremonial building in Minisinaakwaang.
Guests went home with prizes, supplies, and a wealth of useful information provided by representatives of programs and services.
Elder Brenda Moose gave the invocation and also shared her cultural wisdom with young families. "Children are gifted to us," said Brenda. "We are chosen by the Manidoog."
She talked about the traditional four-day feast and the importance of naming ceremonies. She encouraged parents to set a dish at their baby's first drum ceremony and to go to their mothers and grandmothers with questions.
"I was taught that our children don't belong to us but to all Anishinaabe," she said. "They will become our medicine people. They will carry our traditions and our history."
Dr. Lacey Running Hawk and Public Health Nurse Claudia Muntifering with the Family Spirit Program also spoke. Dr. Running Hawk recommend that new moms check out some of the helpful apps available on their smartphones, and she announced that a nurse practitioner has been hired to work four days per week at the District II clinic.
Claudia said she is available for prenatal, infant, and postpartum visits. Call 320-532-7776 ext. 2407 for more information on the Family Spirit program.
Above: Pauline and Brenda Moose shared their wisdom with young families.
Below: Sarah Oswaldson and Kenny Mitchell Jr. with Isaiah Weyaus. Makayla Lightfeather with Riley and Candice Estey with Aurora Nickaboine. Event organizers Renee Bayerle and Kathy Nelson enjoyed the opportunity to cuddle with some little ones!