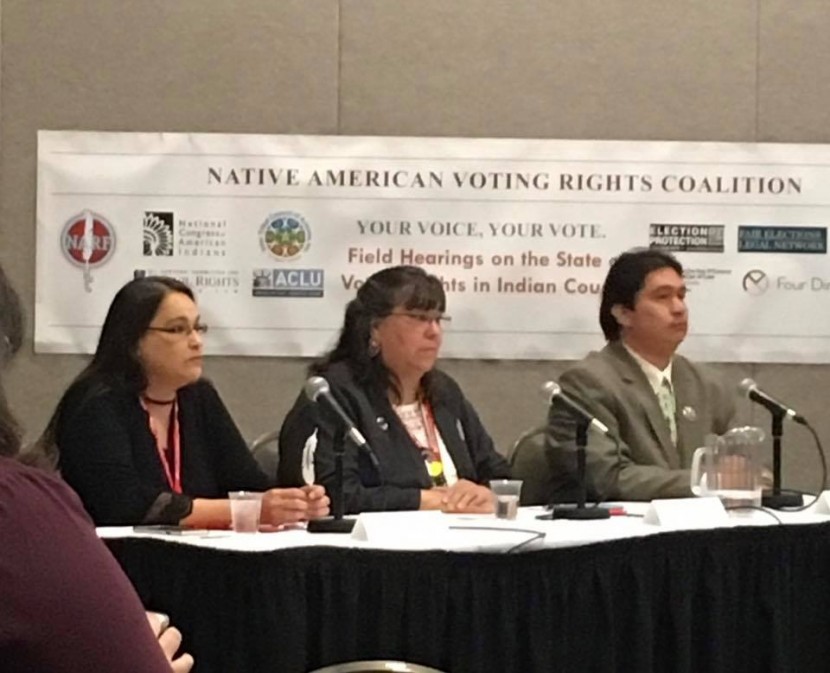 Mille Lacs Band elected officials, staff and commissioners attended the National Congress of American Indians (NCAI) 74th Annual Convention in Milwaukee Oct. 15-20.
Secretary-Treasurer Carolyn Beaulieu was one of the panelists at the Native American Voting Rights Coalition Field Hearing on Monday, Oct. 16. Panelists testified regarding the many obstacles that Native voters face in today's non-tribal elections.
Chief Executive Melanie Benjamin attended a Department of Justice Listening Session and testified about our public safety crisis in District I.
Melanie held a strategy meeting the first day where Executive Branch staff reviewed the agenda and divided up breakout sessions and committee assignments to make sure everything was covered.
All commissioners and staff, including Commissioners Shelly Diaz, Bradley Harrington and Rebecca St. Germaine, and Government Affairs staff Jamie Edwards and Shena Matrious, were required to attend the regional caucus at 7:15 each morning, all General Assemblies and two breakout sessions every day, as well as committee meetings in the evening, some of which lasted until 6:30.
Monday afternoon was the First General Assembly, where the new Principal Deputy Assistant Secretary of Indian Affairs, John Tahsuda (Kiowa), introduced himself to Indian Country. District I Rep. Sandi Blake and Chief Executive Melanie Benjamin were among a small group of tribal leaders who had already met with Tahsuda in Washington D.C.
Health and Human Services Commissioner Rebecca St. Germaine was a panelist on a roundtable discussion titled "Implementing the Tribal Behavioral Health Agenda in a Culturally Relevant Manner."
Mille Lacs Band Member and Government Affairs staff Jamie Edwards and Melanie presented in a breakout session about the Band's efforts to promote indigenous-to-indigenous commerce, alongside a tribe from New Zealand.
Melanie also spoke in a breakout session called "Strengthening Tribal-State Relations and Sovereignty through Education and Training." She introduced a panel consisting of Linda Aitken of Leech Lake, Tadd Johnson of Bois Forte and Leroy Staples Fairbanks, Leech Lake District III Representative.
Mary Sue Anderson, Director of Minisinaakwaang Leadership Academy, was scheduled to be a panelist on a listening session with the Bureau of Indian Education on tribal sovereignty in education. Mary Sue was unable to attend and was replaced by Minisinaakwaang School Board member Michaa Aubid.
The Mille Lacs Band was the Communications Sponsor of the event.
Photo: Secretary-Treasurer Carolyn Beaulieu, left, was a speaker at a panel discussion on native voting rights Monday, Oct. 16.